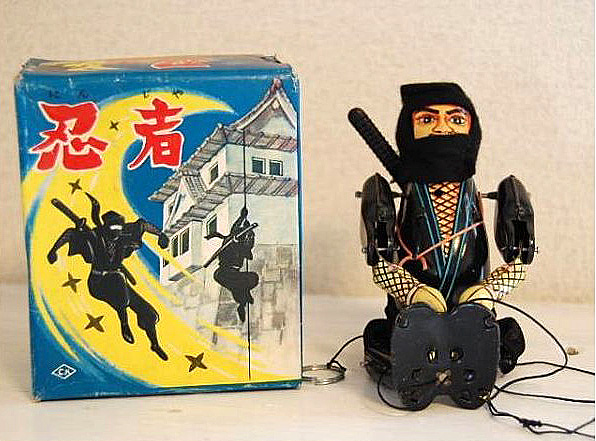 A mere $720 can buy you this INCREDIBLE tin-litho wind-up figure on eBay right now. I think the only thing cooler than this mechanical rope climber is the artwork on the box!
The seller Japan Premium Shop brokers some superb antique tin toys, and this non-licensed item, probably  from the original 60's craze era, is no exception. Tin sheeting was molded and multiple colors lithographed onto the surface. The joints are steel pins, which are often the first thing to rust in old tin toys – these haven't from the looks of their pics. The mask looks to be felt, and it's a miracle to be in that good a condition. I love how the plastic sword is tied on just like the real thing would have been.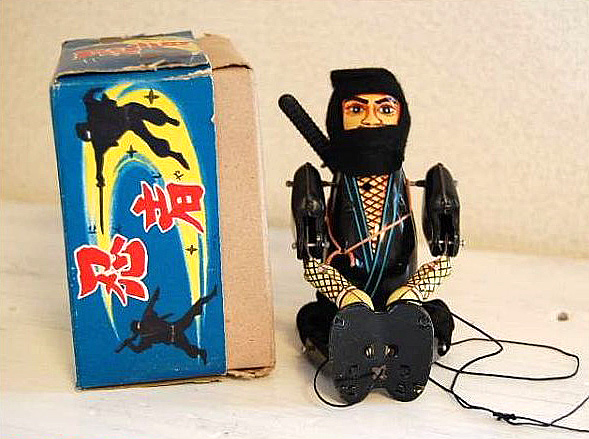 Can't really tell from the pics, buy my guess is you wound a key somewhere and he climbed up the rope, as pictured on the box. Or, it could have been a simpler deal that just slid down the rope, no mechanicals of any kind. Someone buy this thing and let me know, OK?