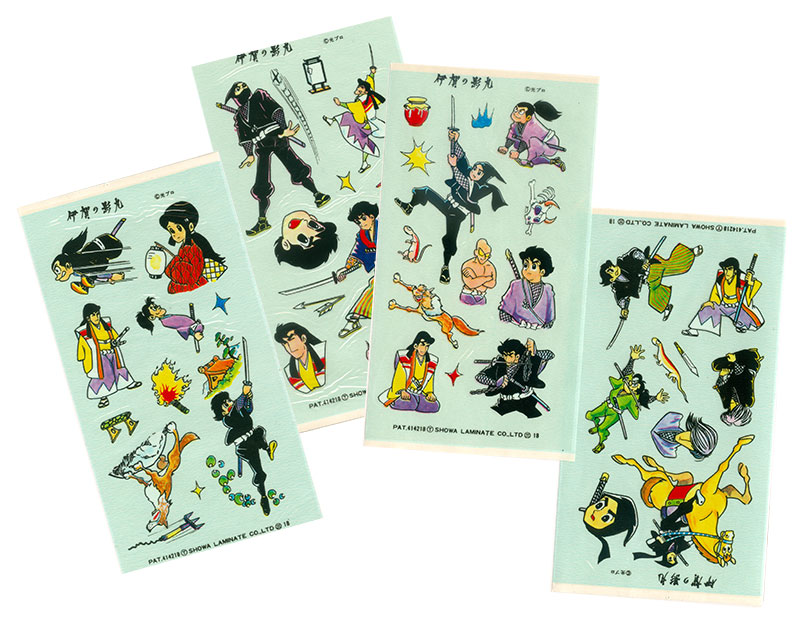 The rarest antiques are the things that are the most disposable when produced, and its hard to think of anything (outside of ice cream bars maybe) with a shorter shelf life than a sheet of temporary tattoos for kids. Somehow a few of these Iga no Kagemaru sheets survived the gauntlet of childhood body modification for decades and lo-and-behold now rest in the safety and comfort of the VN office/shrine!
With full recognition on its importance in ninja media history, I'm still not the hugest fan of Mitsuteru Yokoyama's iconic property, mainly because I don't really care for his character designs (especially the titular hero) unless they're fully hooded. Something about those faces… hmm.
But man oh man do I LOVE the pointy hoods!!!
These were sold to me as temporary tats, but the more I handle these five-inch cellophane sheets, the more I think they instead might have been so-called "rub-down transfers" designed for application to paper backgrounds — sort of a 'make-your-own-scene' art kit for kids. I grew up with all sorts of those sets, the most popular of which was a line called "Presto-Magix."
Regardless of what they were originally, the fact that they licensed actual Yokoyama artwork instead of third-party mimicking makes these endure as treasures…