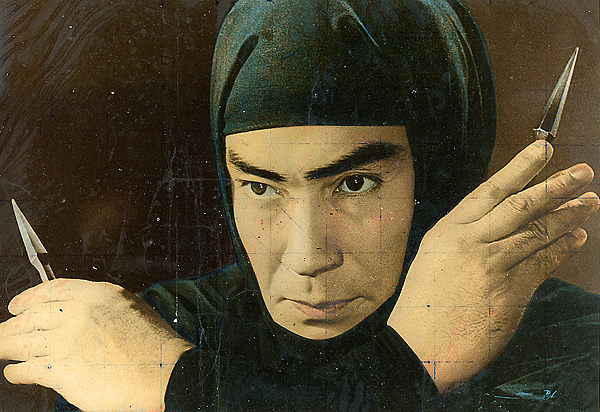 Hey, that's the rest of the image from the home-page header! Yep, yer right.
It's also perhaps the most striking image of Ryutaro Otomo from Toho's publicity shoots. Those spike shuriken are just awesome. Otomo's stern, strong eyes lend a commanding character wether he's in full hood and mask, or partial as above.
The color moray patterns in all these 45-year old press/lobby stills is from deteriorating chemistry shrinking from the surface of the paper. Despite Castle of Owls being a lush color masterpiece, these photos were B&W and manually tinited. Color repro wasn't quite a reality yet for mass market campaigns everwhere. The grid lines pencilled over the photos are most likely from a sign painter, who would have transferred this photo section by section onto a larger canvass or city wall somewhere. Being a marketing graphic designer by day myself, I just love the notion of these photos tacked up around a busy art department decades ago…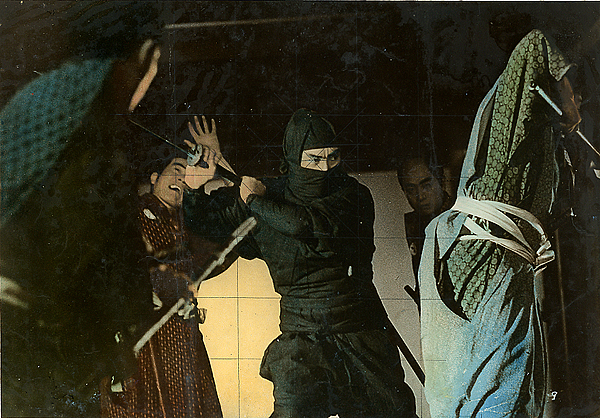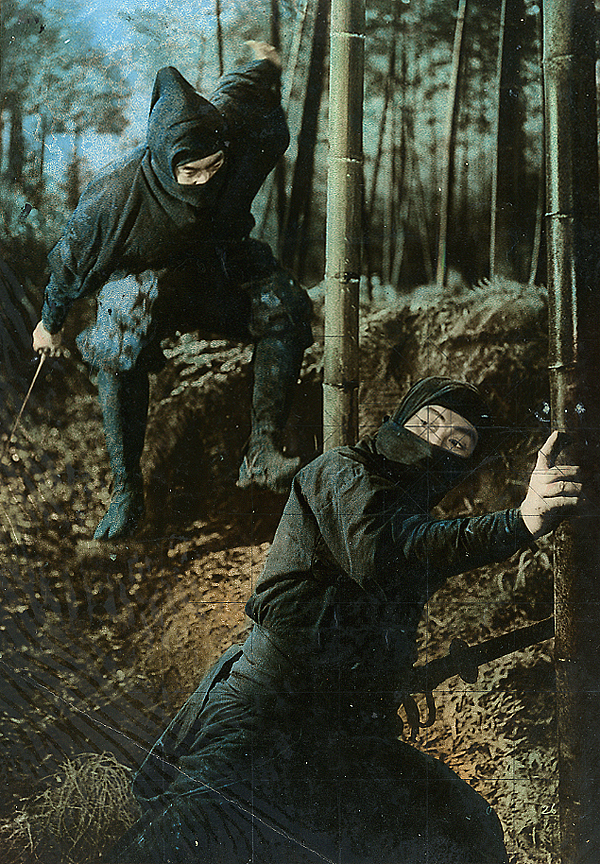 The above is from one of several encounters the former clansmen have over the movie. These fights are superbly edited, quick battles that end with even quicker escapes – the way a ninja-vs.-ninja conflict should be fought. When the two first meet after a decade in hiding, it's almost like those old Looney Tunes with Sam the Sheepdog and Ralph the Wolf – they meet, cajole and catch up with each other, then punch a time clock and it's on, shuriken singing from the shadows of tree-tops!
Despite the escalation of their conflict, there's still a history, and an affection for each other. In the end, it makes the resolution all the more tragic. You won't find many better character journeys, either – Otomo's conflicted ninja is a different, better human being by film's end.
The 1963 Toei classic, directed by Japanese cinema legend Eiichi Kudo, is out there in the trading communities full subbed, sometimes with extras. It's also known under the title "Samurai Spies" (not to confused with the Criterion release of Samurai Spy). The much lauded but oddly flawed (and gratuitously digital FX-laden) remake Owl's Castle has various domestic and all-region international releases as well. It's well worth seeing, if for nothing else than it's place in history as launching the digital age of shinobi-cinema.
More Owls in the next few days…