One staple of martial arts mail order that not only made the transition from the kung-fu 70s to the ninja 80s was the dart board. What started as "Chinese throwing star target boards" quickly transitioned into the profoundly more successful "ninja shuriken target boards."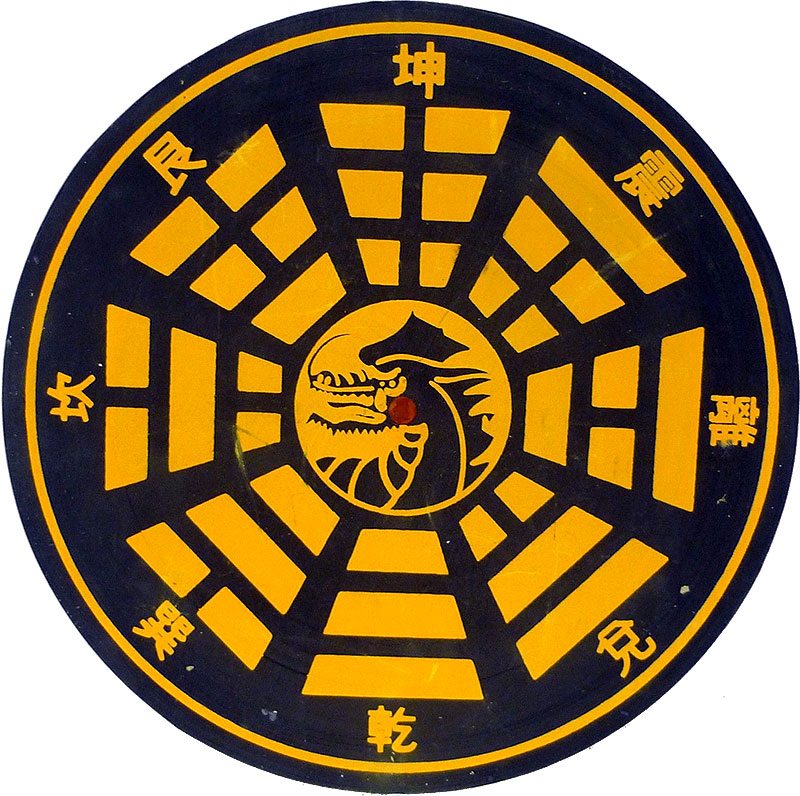 "Chinese Throwing Stars" were popularized in Western world by scenes in the Bond film You Only Live Twice and later the Kung-Fu TV series, and were sold by Chinatown junk shops and martial mail order mavens long before the ninja boom. This "dragon design" target board was little more than a cheap dart board sans the wire target frame. Variants of this graphical layout were painted onto 15″ boards and sold by most if not all major suppliers until the early 1980s, when THIS happened: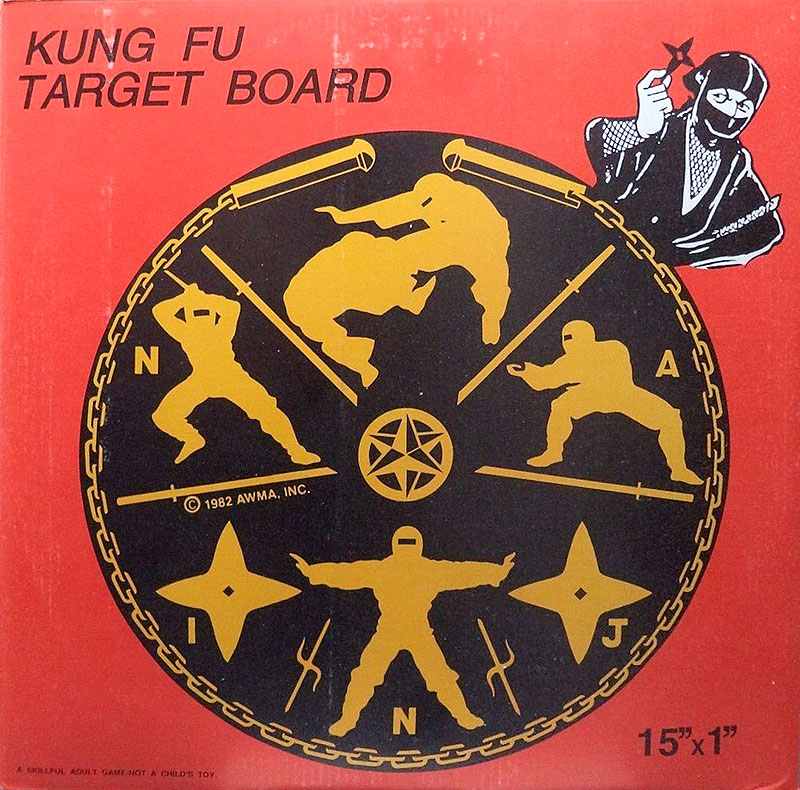 It might say "Kung-Fu" in the corner, but Asian World of Martial Arts knew damn well who they were selling to in 1982. The traditional dragon design still adorned the opposite side of this new panel, which featured silhouettes of common retail ninja suits, canon "Ninja-To" swords, manji-sais and yes — NINJA THROWING STARS! (And all of these items were available from AWMA, too…)
This had to be one of if not the most ubiquitous items of the 80s craze era. Nerdy teens had them in their bedrooms, every dojo had one on some wall. Luckily for the modern collector, so many were made for so long, they're relatively easy to find even now. There's a super cheap vintage boxed one on eBay now in fact, right here!
And yes, there's even one in the VN office: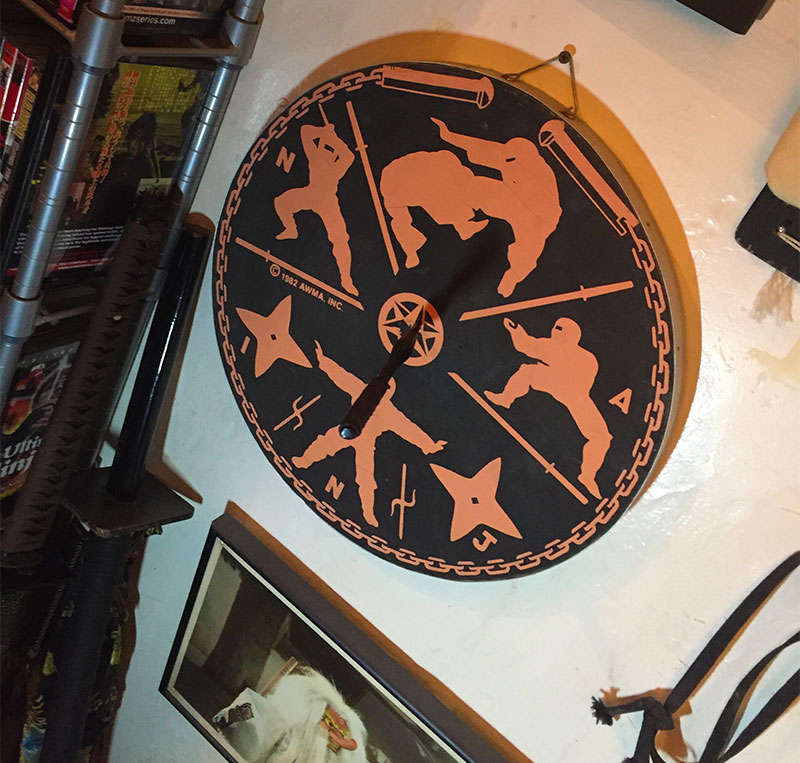 Back in the day, we used to joke that when sensei or sifu was around the dojo, the more respectable dragon side was displayed, but if they were gone and the ninja-boom-era inmates were running the asylum it was time to flip it over to the shinobi side.
Knock-offs and variants of the AWMA ninja board were sold by other manufacturers, too: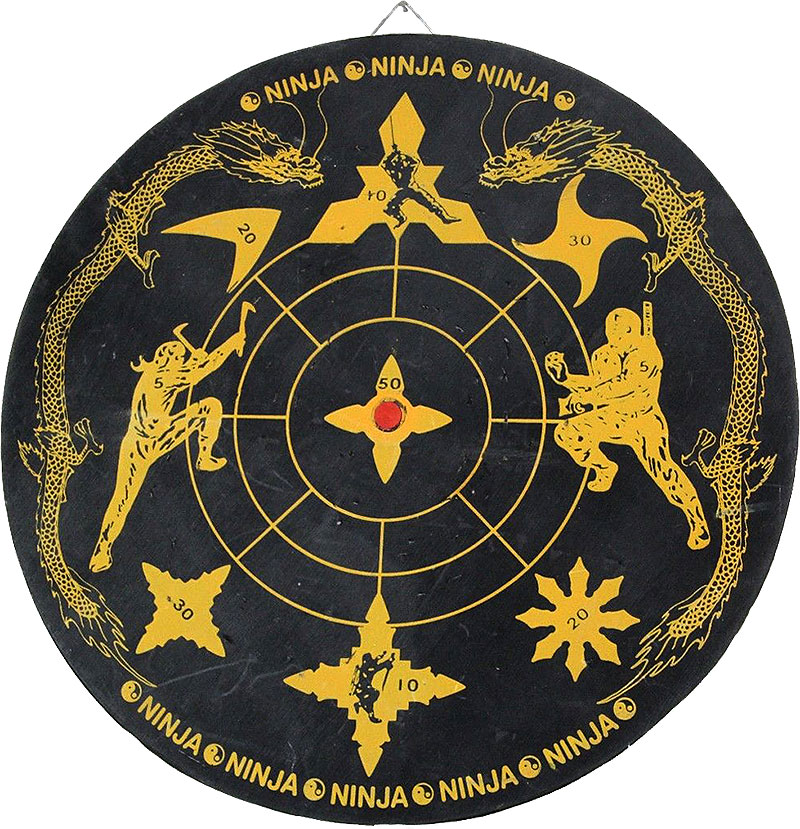 I remember this design being around well into the 90s, and made of much cheaper stuff. Somebody somewhere is probably making them today…
The thing was with these boards, they absolutely SUCKED as shuriken targets. The pub dart board material was designed for the needle tips of competition darts, not a wedge-shaped, often dull as a butter knife, throwing blade point. Between the material being too dense and the shuriken being too lightweight, they bounced more than they stuck. Heaven forbid you had great aim and hit the rock-hard red center plug, too, as sometimes that sent the projectile 180-degrees back at you. And if you were a super genius throwing ninja stars indoors, the ricochets got painful and even costly real quick.
We used to use multiple layers of corrugated cardboard nailed to pine planks, and threw outside. Even then, those Chinatown stars (with the holes drilled into them for chains to technically make them necklaces in the eyes of the law) rarely stuck anyway. There was better luck to be had with bigger, better designed blunt-ended stuff originally from Japan: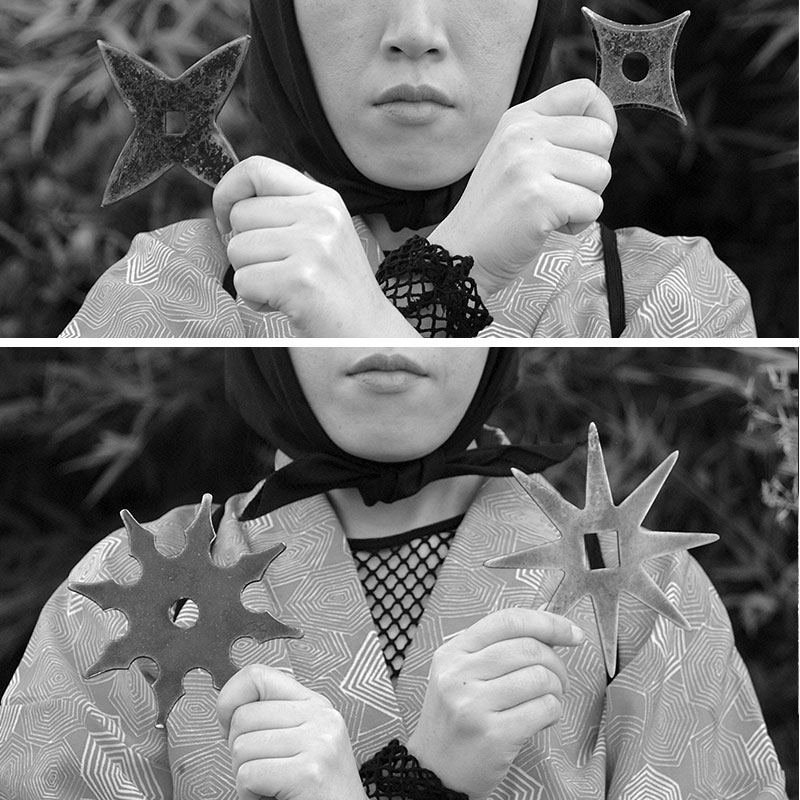 Nowadays, a much better idea all around are these super cheap, but rather effective, rubber shuriken and foam-board sets all over eBay and various online suppliers. Where were these in 1982 when cheap stars were pinging around my bedroom and ricocheting into the insteps of my bare feet?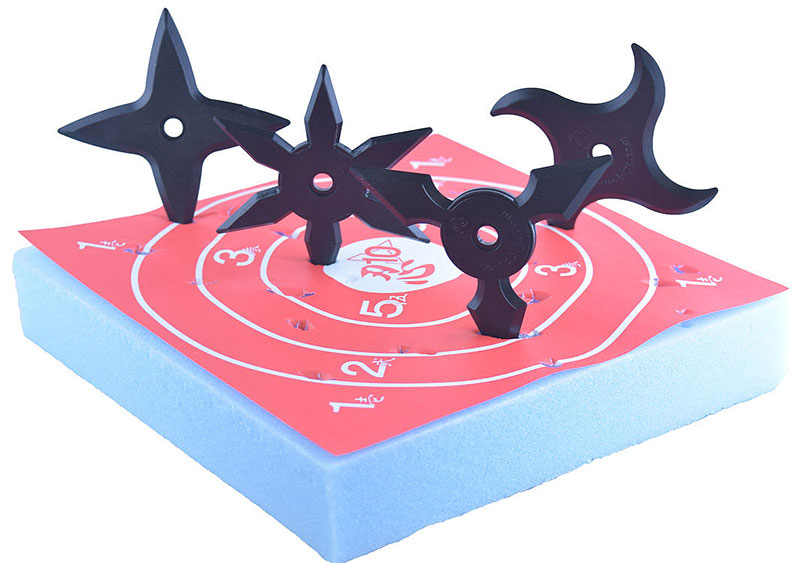 If only Asian World of Martial Arts would offer this in the 15″ ninja style…