Sonny Chiba made his American convention debut the last weekend in March at a show called Monsterpalooza in Burbank, CA. This once intimate, now massive, gathering of visual effects artists and Monster Kids is known for making history with guests from Japan — original Godzilla stuntman Haruo Nakajima's US debut being a standout.
I was pretty jazzed to meet Chiba, as publisher of this site, and outright fanboy. He has generational fan bases — to many he'll always be Terry Tsurugi from the 70's Streetfighter films, newer fans only know him from those Kill Bill! flicks, but for me… well, I can't even remember how many times I watched Iga Ninpocho (aka Ninja Wars) during the mid-80s when it ran on cable (and subsequently worn out on VHS).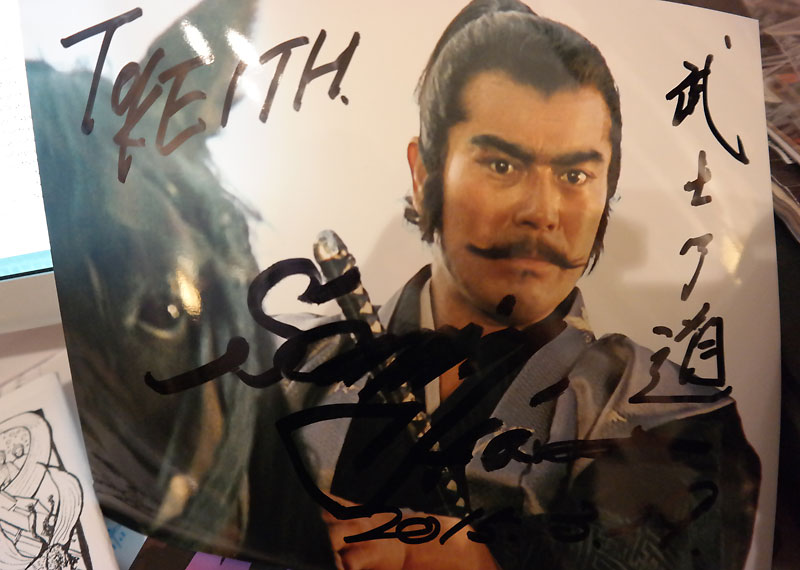 Chiba sold 8x10s and signed autographs like all celebs do, and gave a talk to dozens of fans, discussing movies old and new. He spoke some sardonic smack about Quentin Tarantino — chiding him a bit for being a weird stalker when first given a tour of his home video collection, even commenting on him being a copycat director weaving together remakes of his favorite scenes from other directors' films rather than creating his own vision. It was all done through an interpreter so who knows what exactly was said and with what tone, but still, absolutely priceless!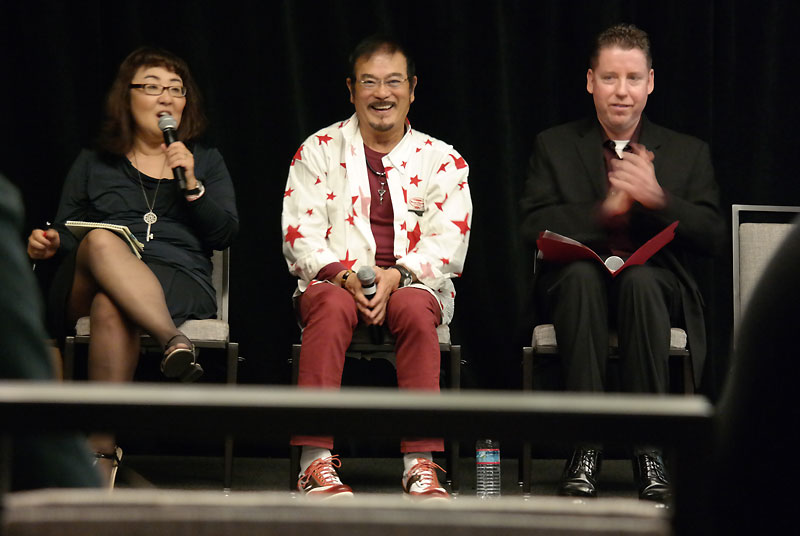 Enthused as the crowds were, it seemed Chiba himself had the real 'fan' moment when long-time VN supporter Dustin de Leon showed up in full Hattori Hanzo costume from the latter seasons of Kage no Gundan — aka Shadow Warriors. Dustin was known for his Sub Zero outfits at cons around SoCal, but a few years ago he fell in love with older Japanese ninja movies and TV and he an a small group of like-minded shadow-souls now stand out in convention crowds of robots, zombies, superheroes, gaudy anime girls and 8-bit icons by sporting down-to-earth retro-shinobi gear!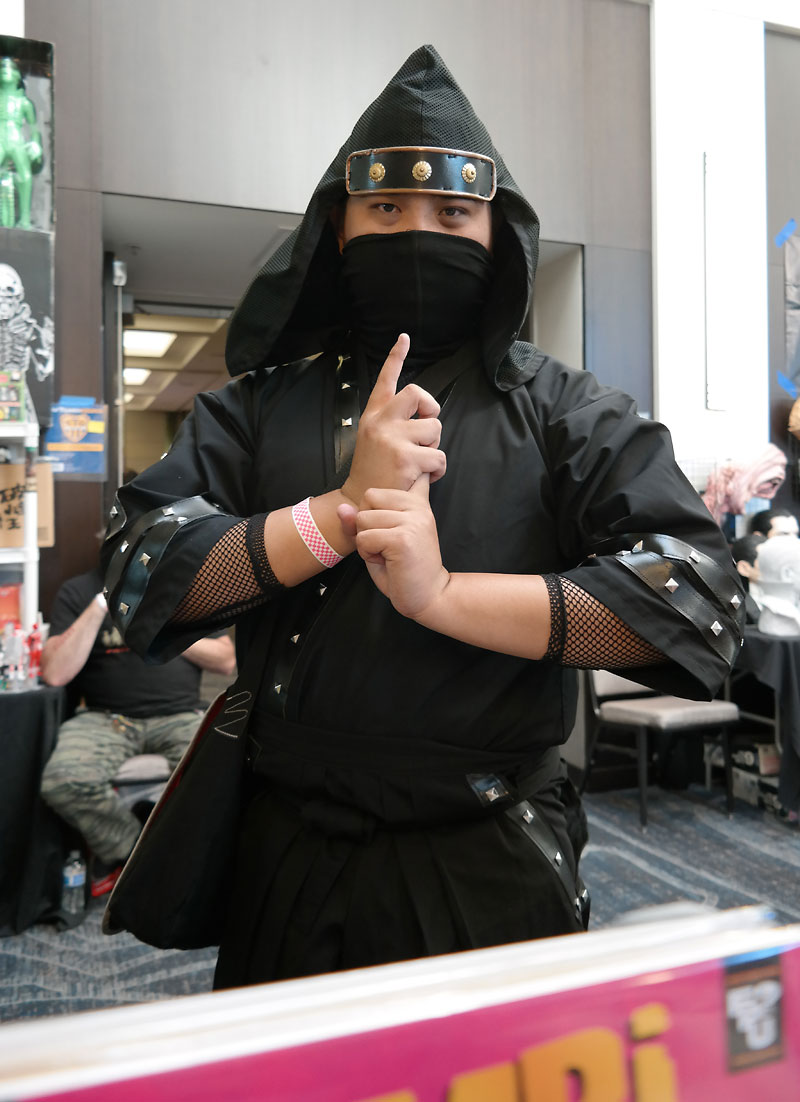 (Keepin' it real in a world of Narutos… members of SoCal's Shadow Warriors cosplay group including
Dustin, Matt Todd, Xanthe Huynh, Christine Bae and Mark Todd.)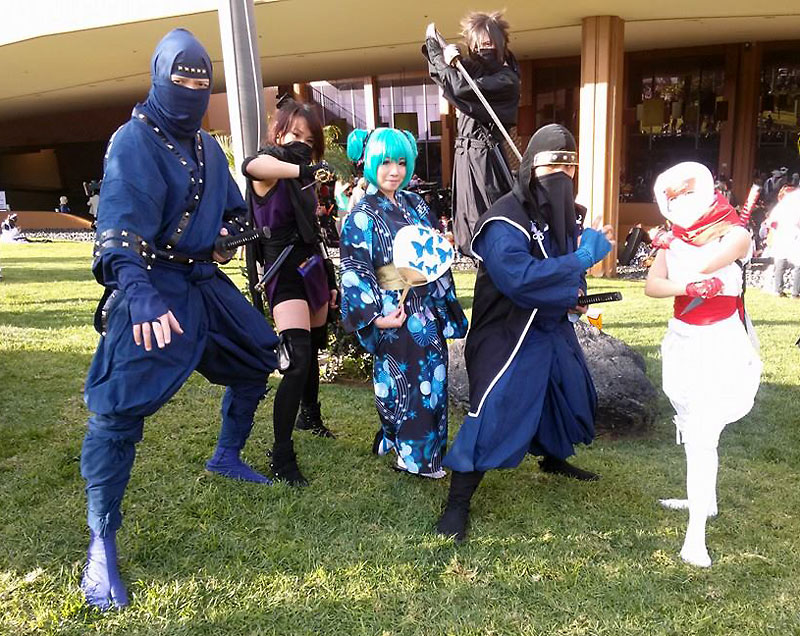 Chiba was absolutely blown away that anyone in the US (outside of Tarantino the Stalker) even knew of his 80s show. (And I've asked this forever on this site but WHY WHY WHY wasn't such fare released over here during the height of our craze?!?!?!?) He called Dustin up on stage with him for photos, and even invited him to dinner where the kid got to meet Chiba's sword-slinger daughter Juri Manase.
It was great to see this ninja-fandom dream-come-true for Dustin, well done man!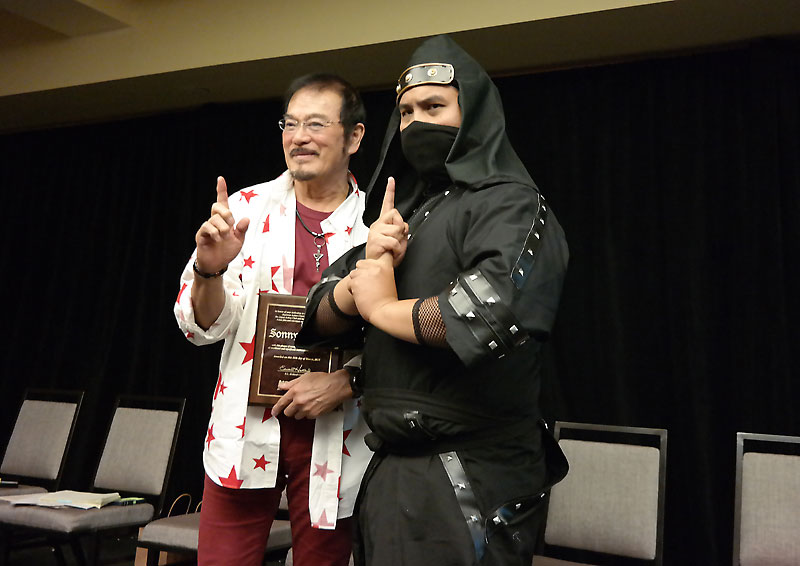 I, meanwhile, was turned down for an interview by his U.S. handlers, but that bitterness doesn't belong in these celebratory pages, so ignore my sad self right now and check out these props Chiba-san had on display at the show!
Don't know how vintage any of this was, or if it even came in from Japan (kinda hard to get throwing spikes past TSA nowadays), but it was a cool spread nonetheless.
AND… in the end, I did an end-around, circumventing Chiba's US peeps and getting my info right to his Japanese management, so that interview may just happen in the future…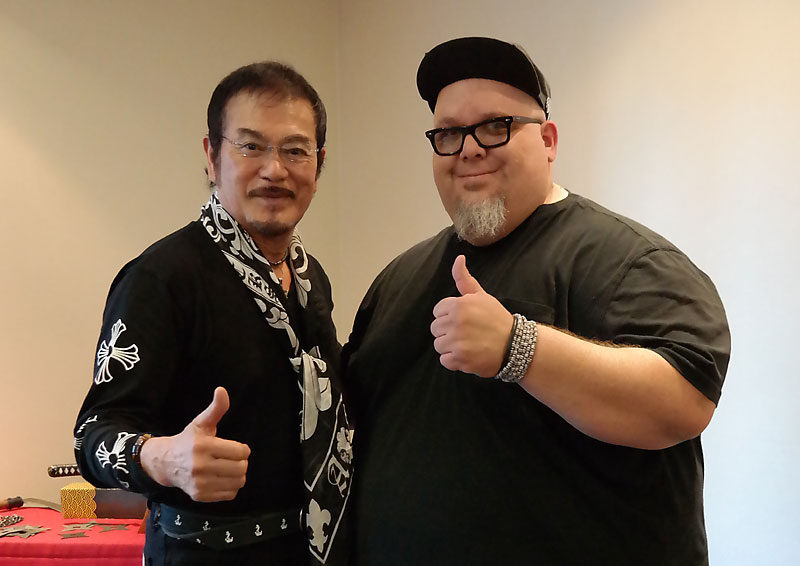 Or I'm just a big nerd.
But so what, I met Sonny Chiba!!!