Wow… the fifth anniversary of this site.
You'll notice some minor cosmetic and navigation updates for the first time in forever. I suppose some sort of profound editorial is in order, but I'd rather just thank everyone who's plugged this site and contributed, with much appreciation to the folks on tumblr who actually credit where they found their images. More than anything though, I'd like to welcome you new readers.
I'm not a web guy by any stretch, so this site is built on a simple WordPress blog engine, which makes finding past material a bit tedious (although who doesn't love endlessly scrolling through years and years of great ninja stuff?), so I'll center this anniversary article on some of the best pieces we've published in the past that you definitely shouldn't miss. Yes, there's plenty of great pieces from the last five years — some more wordy than the below, some with more pics, some more profound… but these encapsulate the spirit of the site perfectly I think.
So here's A HALF-DECADE OF ESSENTIAL VINTAGE NINJA ARTICLES: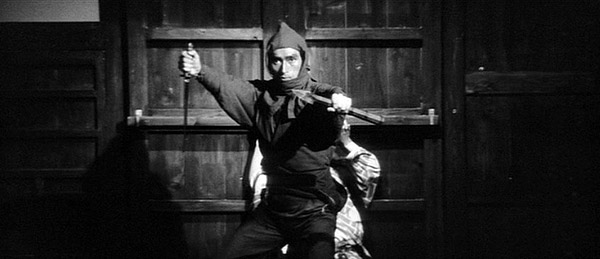 1.) THE WEEK-LONG VISUAL BREAKDOWN OF SAMURAI SPY

VN started during an explosion of DVDr trading in fan-subbed Japanese films, granting us access for the first time to decades of old ninja movies that never made it to our shores during the 80s craze. Much of the early tone of this site was Holy crap, we can finally see Mission: Iron Castle! As disc trading has largely become insiders sharing files within invite-only groups, or just YouTube link sharing on social media, a lot of that magic of discovery seems to be waning. That being said, I'll probably never stop reviewing films via stills, old-school.
The absolute best job VN did of covering a movie this way was a multi-part series on Samurai Spy — a film that's probably the pinnacle of artistic craft in the genre. Start at the prelude to the four-part series.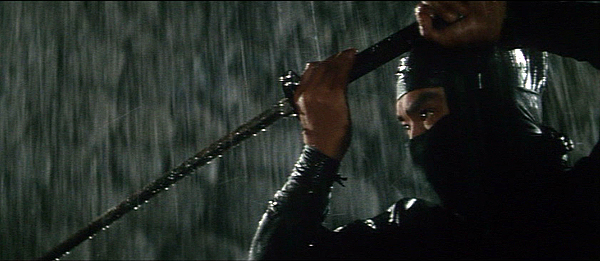 2.) CASTLE OF OWLS WEEK AND BEYOND…
It's my favorite ninja movie ever, it has a digital-era remake to compare the classic original to, and over the years we've scored multiple lots of antique press photos from this Ryutaro Otomo vehicle. There might not be a better visually and editorially represented film on this site. Start at the 2009 series CASTLE OF OWLS WEEK, and continue with a great photo follow-up here.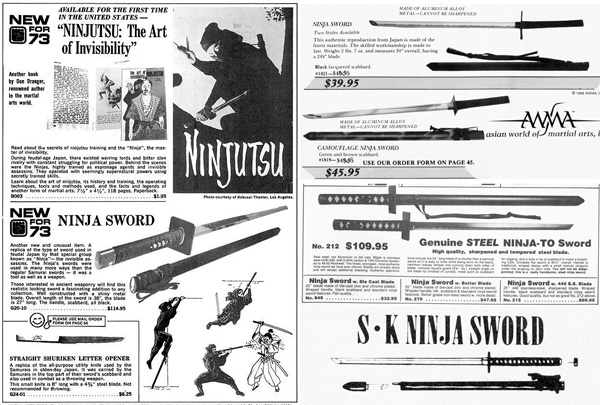 3.) THE 'NINJA-TO' ARTICLES AND DEBATES
Three years back, Tim and I were looking at some newly offered high end "ninja swords" coming out of the superior boutique-style brands, which were consistent with trends we had seen in the wall-hanger crap sold in Chinatown smoke shops — the blades were now as long as any traditional samurai sword, the handles just as short, and the guards were still square but had shrunk down from the oversized ones made famous by Kosugi and ilk. Basically, there was now a definite version or style of the ninja-to for the 2000s.
These musings turned to actual digging — looking for the origin of the 80's style ninja-to in mail order ads, and pouring through 60s Japanese films looking for the precursors. It all raised as many questions as answers, but we put together a pretty good look at the fabled weapon as historical artifact, movie prop and merchandise staple.
Here's a quick-link to the entire series, and the user feedback is a good read, too.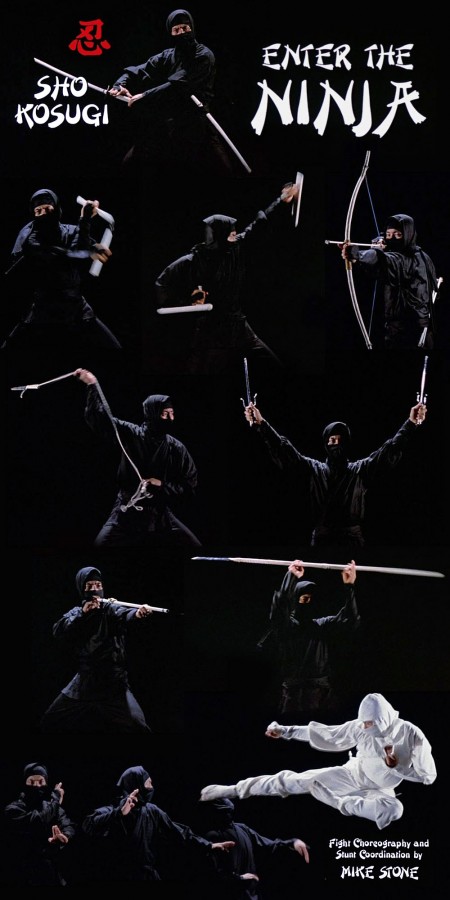 4.) THE CREDITS THAT LAUNCHED A CRAZE
As much as we love discovering older Japanese fare, this site is run by acolytes of the 80s American ninja craze. I've often credited the opening titles to Enter the Ninja as the actual birth moment of the 80s boom — five minutes of pure exotic weapons porn courtesy of Sho Kosugi. I spent a couple hours screen capping and collaging a stills-representation of that greatness, and it went pretty viral. Follow this up with more EtN love: a review of the movie, some foreign lobby cards,  and other publicity stills.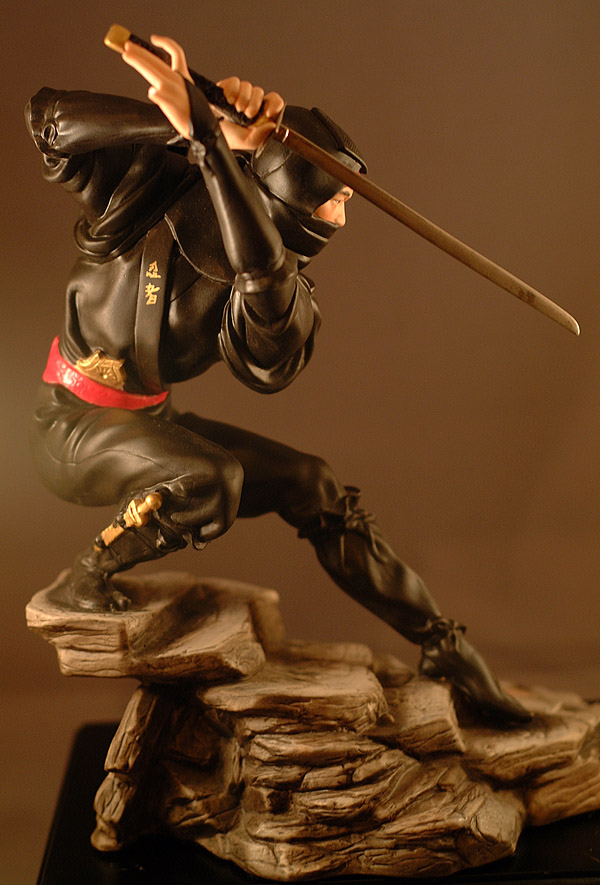 5.) THE HOLY GRAIL OF NINJA STATUES
Most of the toys and statues you see on here are actually in the collection of myself or a select few other contributors. Being a decades-long ninja collector, there are treasures I have and others I never realistically hoped to possess. The Franklin Mint "Shadow Warrior" statue was one of these grails, a rare high-end collectible that completely embraced the look and feel of the exploitive Canon films of the era. These were too expensive for most of us when released, have increased in value since, and are fragile as hell to boot, so they aren't getting any more plentiful to say the least. I had pretty much given up on ever having one, until scoring one in 2010 that was passed over by other buyers due to some damage (what I dubbed a 'Yakuza wound'). I love how 80s this thing is (even if it was produced in 1990). Check out some other craze-era porcelain here and here, too.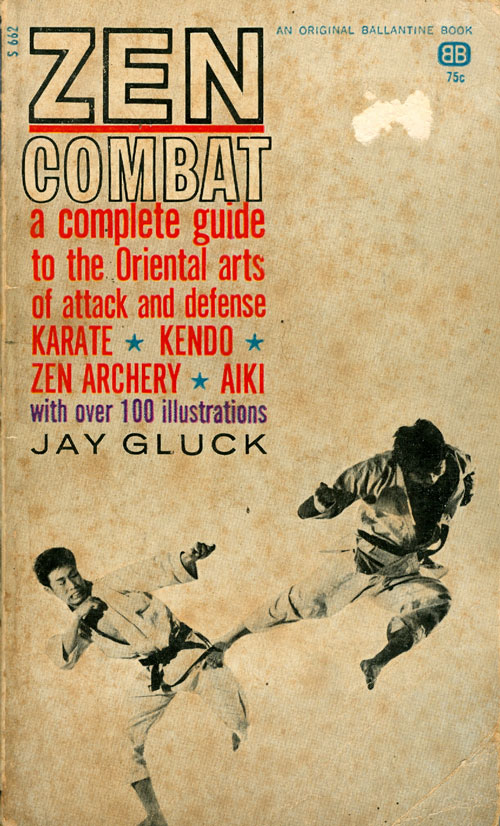 6.) THE EARLIEST NINJUTSU HATER?
Jay Gluck may just have been the first Westerner to write about ninjutsu, with a chapter on the emergence of modern shinobi schools in Japan in his 1962 book Zen Combat. It predates the first articles by Arthur Adams in Black Belt, and the publication of You Only Live Twice. It isn't a cover feature during the boom, isn't a lead piece designed to sell copies of anything, so it has a raw honesty. Maybe too raw — Gluck didn't debunk ninja history, but he surely had no use for the 60s Japanese ninja boom nor any of the modern practitioners of what he called "dirty weapon" martial arts. This is an essential read and a little-known chapter of ninjutsu's exposure in the West.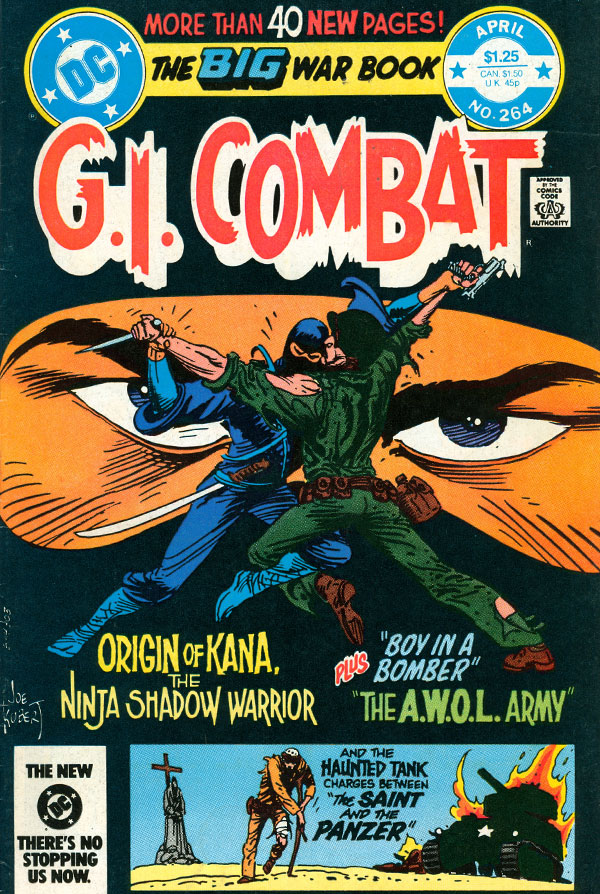 7.) KANA — THE 4-COLOR FOREFATHER OF SNAKE-EYES AND STORM SHADOW
As much as we love Shirato Sanpei's work and other legendary ninja manga, there are plenty of sites out there covering them already. VN is probably the only spot anywhere featuring indepth looks at long-forgotten pioneering works like GI Combat's KANA back-up stories. These nearly pre-craze stories got the drop on GI Joe's ninja characters by years, but have fallen into relative obscurity.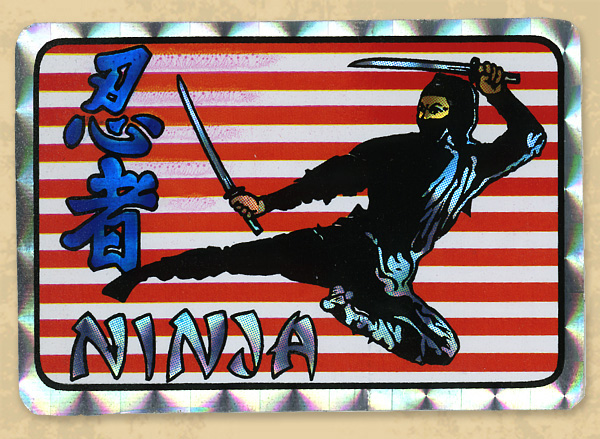 It's no secret, I love cheap ninja crap from the 80s! Battery operated toys, plastic swords, vending machine prizes, lousy generic figures, and yes… these once ubiquitous, now super rare holographic stickers. With art crudely sketched from martial arts magazine mail order ads or stolen from video covers, few things are more of the time than these capsule machine decals. As soon as I posted these, they became kinda hot on eBay and are now nigh-impossible to score cheap. Sorry guys…
9.) INTRODUCING SHINTARO AND TONBEI TO NON-AUSTRALIANS
One truly baffling and infuriating thing we were denied in the 80s up here was The Samurai (orig. Onmitsu Kenshin), a fully English-dubbed 10-season ninja-infused Japanese TV show that was literally bigger than The Beatles in Australia in the 1960s. Why was this broadcast or VHS-ready product not imported? WHY?!?!? Luckily, Siren Video in Oz made it available on DVD in the mid 2000s, and I had friends in the right places, so we ended up being THE portal for this major yet obscure chapter of ninja media history for those outside the land down under.

 So what's in store for the future?
Well, sadly, my time is going to be less free than ever but I'm committed to at least two posts per month. I'd love to write and design some sort of book that reflects this site, and may just do something on my own in the next year or so unless another publisher wants to step up. I'd also really like to get some interviews while the men and women who made the 80s craze are still around and available. And I'm certainly not about to stop buying cheap 80s merch and snapping up rare movies from overseas.
Thanks for being here with us everyone, we'll try to continue delivering for another five years…
Keith J. Rainville — June, 2014