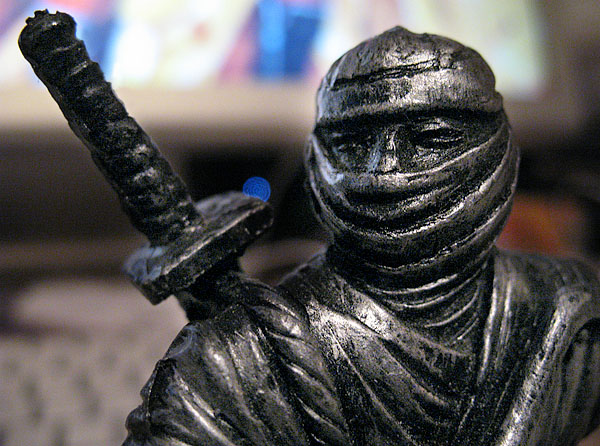 No major theme today, but I wanted to throw some notes out there before a busy weekend.
I'll start with a rather strange score from LA's Chinatown: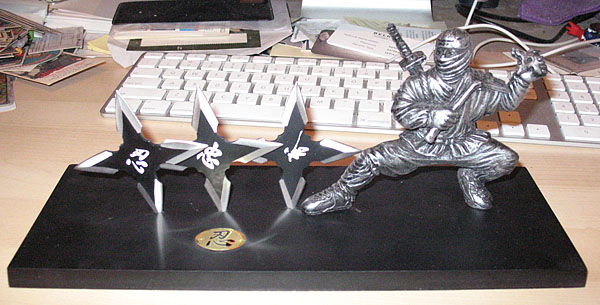 Found this statue/plaque/display thing at a shop in the Dynasty Market complex, which if you've never been, reeks of dying baby turtles and low-grade fried food, and so do you after an hour… and your clothes and everything you bought. LOVE IT!
I was down there to buy some wall-mounted sword racks, but couldn't pass up this gem as well. It's a poorly crafted resin knock-off of this high-end pewter collectible:
But with one major derivation. He's wearing SNEAKERS!?!?!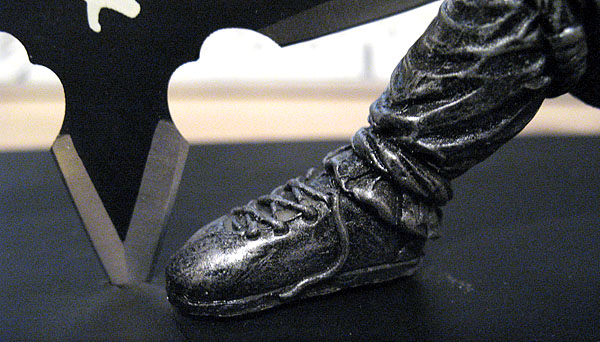 AND they're un-tied. Oh how I adore thee, Sneaker Ninja!
The three shuriken with the bad kanji are RAZOR sharp but so lightweight they'd have a hard time sticking into styrofoam. Such is the state of swap-meet grade martial arts weapons nowadays. Everything is cheap steel, ground super sharp, but the craftsmanship sucks compared to the blunt zinc-alloy stuff sold back in the 80s.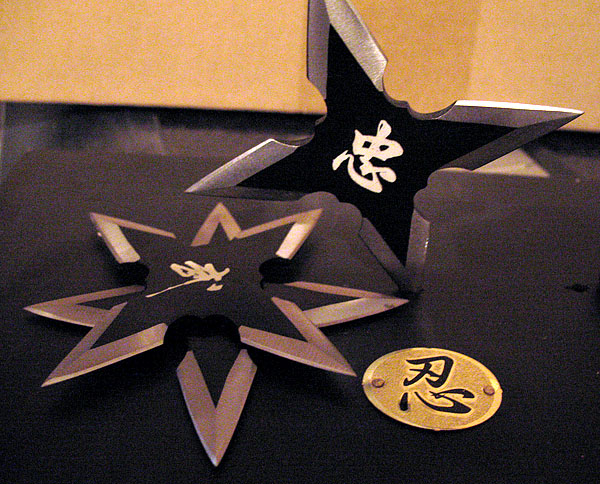 Speaking of 80's weaponry, our post on the Origins of the 80s 'Ninja-To' at the beginning of the month drew some excellent feedback, and has inspired Tim and I to follow it up in a much wider scale.
It may end up as a week's worth of features, ranging from the actual (or lack thereof?) history of the weapon, if and when it was ever portrayed in Japanese media before the 80's, the wide-ranging internet debate/feud about Hatsumi and Hayes' supposed roles in introducing the sword to the West, the official Sho Kosugi version sold via mail order, and even some nostalgia from our own craze-era collecting days. This will all be up in early-to-mid March.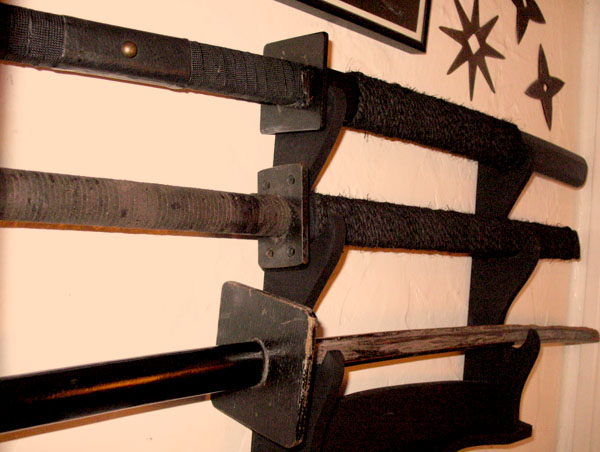 And finally, Funimation has released Sushi Typhoon's fun-as-hell, tongue-in-cheek, shinobi-gore-sploitation film Alien vs. Ninja on DVD and Blu-Ray. I previewed this three months back while it was on the festival circuit, and while I'm no big fan of this cheap, digital bloodbath cinema coming out of Japan right now (Machine Girl, RoboGeisha, etc.), the presence of nice video game-inspired costuming, some excellent over-the-top fight scenes and, especially, the adorable Mika Hijii, catapulted this ninja-fied entry into the genre to VN-approved status.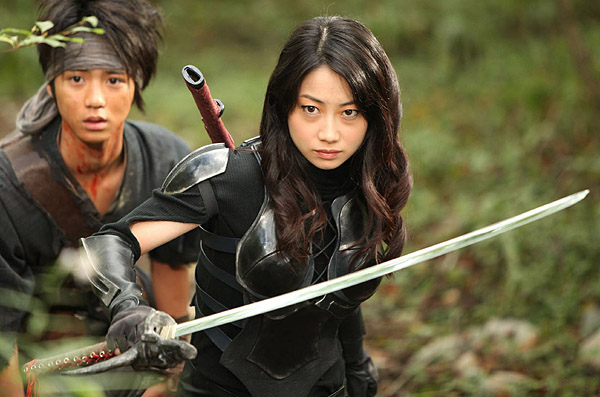 The DVD is gorgeous, with image quality vastly superior to the caps we originally featured and making-of extras. Twitch did a nice review of the Blu-ray, too.
OK peeps, I'm entering a very busy March outside of my ninja hobby confines, but we've got some good stuff coming regardless, so stick with us. And as always, I want to thank everyone who links, Tweets and plugs us on Facebook. Really helps!