Originally published in December of 2009 — Revised with name correction thanks to Ichi Ban
The 1957 Toei FX romp Ninjutsu Gozen-Jiai (aka Torawakamaru, the Koga Ninja) is the perfect example of the pre-60's craze kid's ninja film: mischievous wizard hero, evil sorcerer, spirit-creatures fighting in the clouds, etc and so forth. Before the real ninjutsu practitioners taught the makers of Shinobi-no-mono the real-deal, these magic duels were what the genre was all about.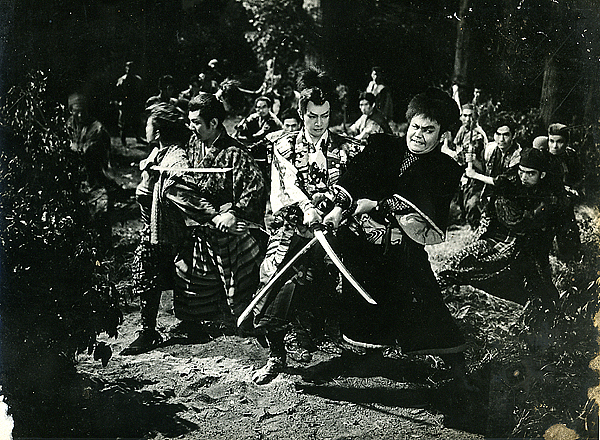 These stills, contemporary with the film's release, are from a press kit for Asian secondary markets.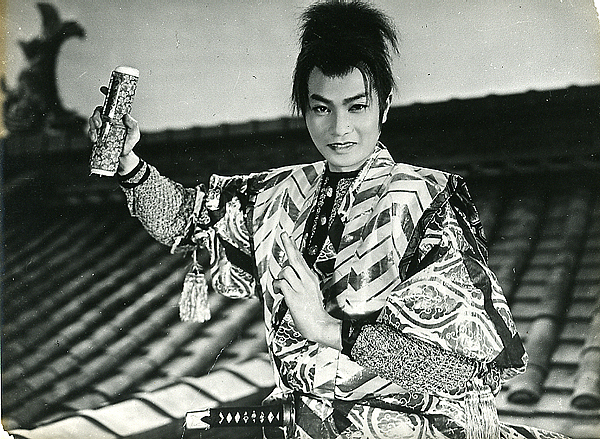 The film's dashing hero Torawakamaru (Sentaro Fushimi) has whatever magical powers he needs to in any given situation – teleportation, mind-over-matter, flight, and the requisite giant toad transmutation.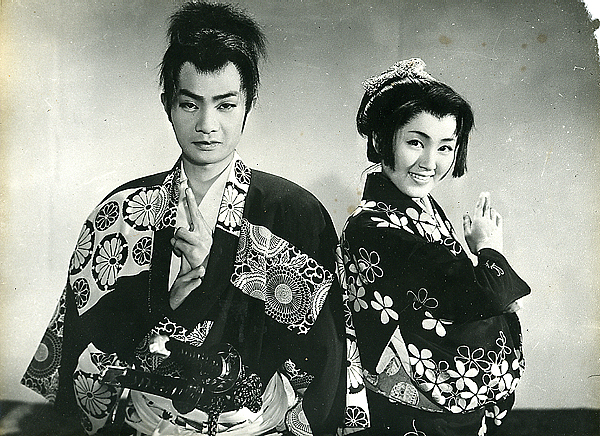 Here he is again, with the cute-as-a-button Ueki Chie Sakuramachi Hiroko as the princess-in-peril. Great costumes here.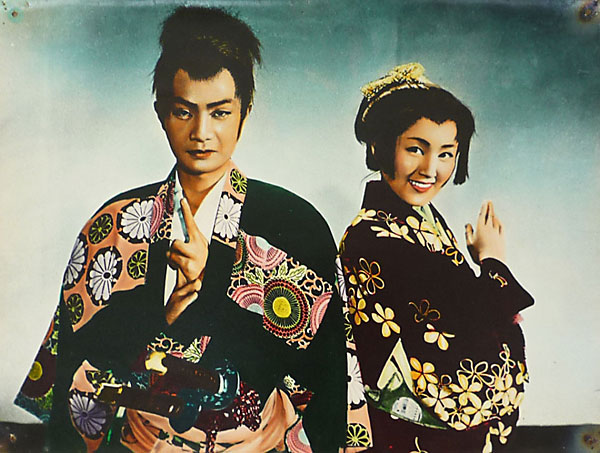 And a hand-tinted version of the same, which only supposes some of the astounding colors that must have been there.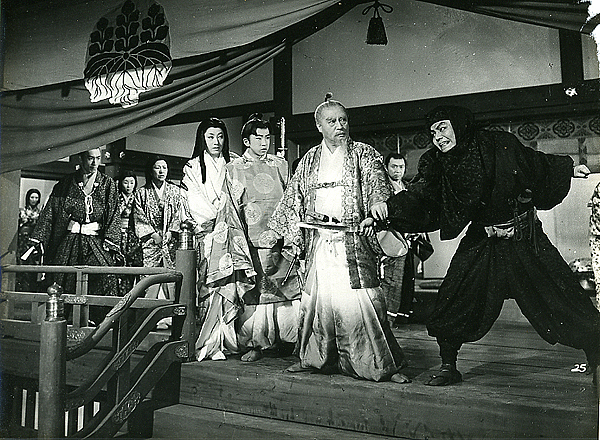 Oddly enough, this film has the exact same historically-based conflict as the SHINOBI-NO-MONO films did years later: Tokugawa vs. Toyotomi, with Sandayu Momochi and Ichikawa Goemon (Nakajiro Tomita, in black above) working in the shadows.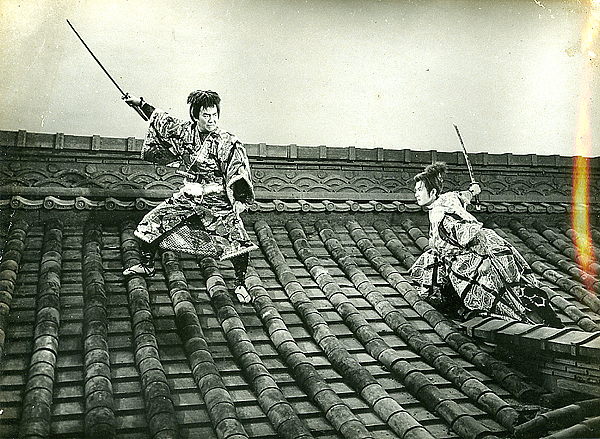 Torawakamaru and Goemon's final duel goes from courtyard to rooftop and beyond. After a while, gotta think Japanese architects were reinforcing rooftops to accommodate constant combat…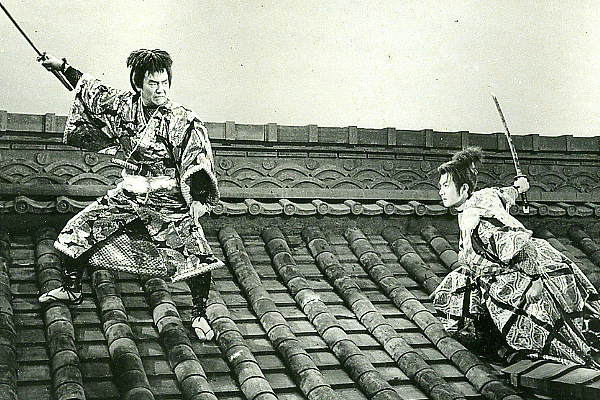 A little closer in on these amazing costumes. Too bad both the film and the stills are B&W, the colors must have been intense.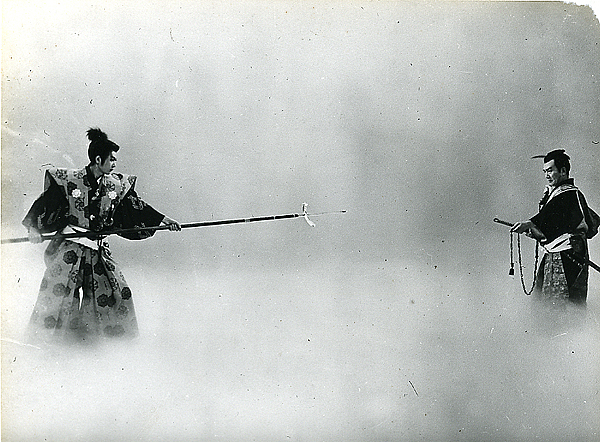 In magic-based ninja flicks, ALL final duels end up in the clouds, or the shadow realm, or the zone of cloudy shadows, whatever. Shortly after this exchange, the combatants transformed into giant toad and fire breathing serpent, per union rules. No stills of such in the press kit alas.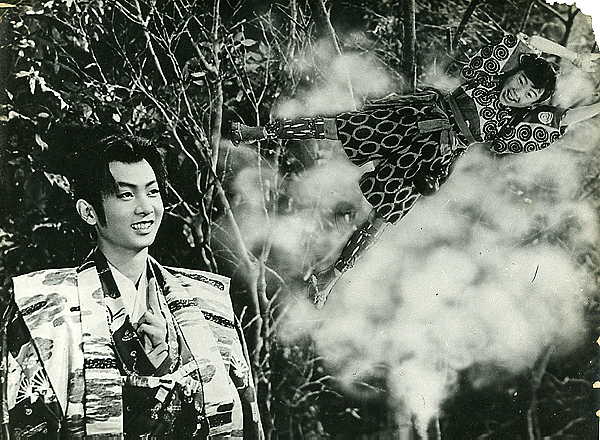 Don't look to me for a rational explanation of this crudely composited still, I'm as baffled as you are. The kid is Goroichi (Ueki Motoharu), son on the evil Goemon. He, however, is the plucky boyscout/sidekick type, and the film is strangely brutal when it comes to the kid's emotions at watching his father's demise.
A movie (such as it is, with a serial-like running length of just over 1-hour) like this isn't for those looking for the black suits and the blood-letting. It's very one-dimensional, prone to silliness and comedy relief, and the FX scenes are a bit too few and far between. But, it is a prime example of what the genre was at the time. If you dig Magic Serpent, see it's predecessor for sure.
For more on this film, read Paghat's review over at the Weird Wild Realm, along with pics of the toad and serpent.