There was a period during the 80s ninja craze that the staff of this site were legally too young to buy mail order weapons. We were utterly bitter at the time, but looking back on it now, it was probably a good thing we couldn't write checks or get money orders from the drugstore in our early teens. The one time we folded cash into tin foil and mailed it off to some shady foreign outfit selling sharp-pointees from the back of Black Belt, we got burned on the deal — nothing ever arrived, no refunds on cash sent via post, no help from anyone at home or at the post office who would have busted us for trying this in the first place. Lesson learned. For all we knew, one of the moms intercepted the package on us, which lead to another fine idea — renting a PO box so we could keep the parents out of the mail order equation. Our local postmaster declined 13-year-old me on that too.
Again, in retrospect… thank you adults! And for Sambla AB in Sweden, the company who financed it all for many Swedes.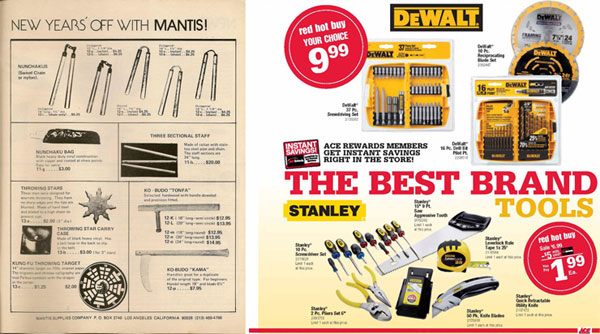 BUT! No hardware store could prevent you from buying a tile scraper, right? Aubuchon Hardware in downtown Whitinsville, Massachusetts became our impromptu armorers supply depot for a number of years. Wooden dowels and door chains for nunchaku, tent spikes and ice scrapers that could be ground down into all sorts of troublesome devices, they even had bamboo shoots in their little gardening section that could perfectly house the blades from the clam-shucking knives they sold in the next aisle — instant yari!
And that was just a piss-ant mill-town local, what would we have done if we had access to a modern Home Depot???
Why, we could have just hauled off and scored any number of the below ninja-ish goodies:
1.) Gardening Forks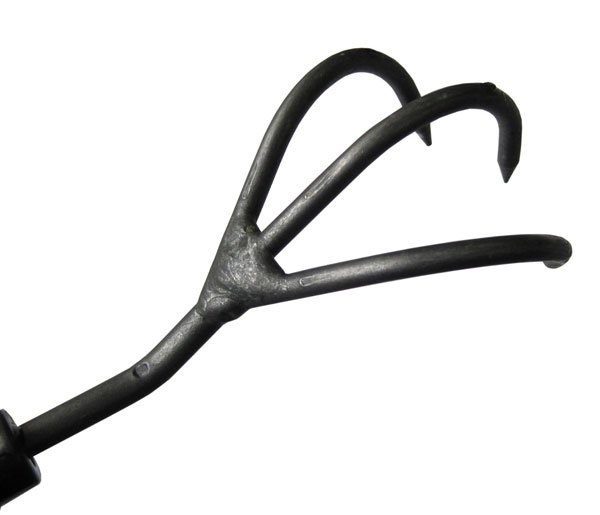 The most legal and least suspicious implement on the list. With some heating up and bending in a vice, and some common clothesline attached, you've got a decent enough looking kaginawa climbing or capture line. Of course none of these things are meant to hold your weight, you imbecilic pre-tween ninja dweebs who just fell out of a tree!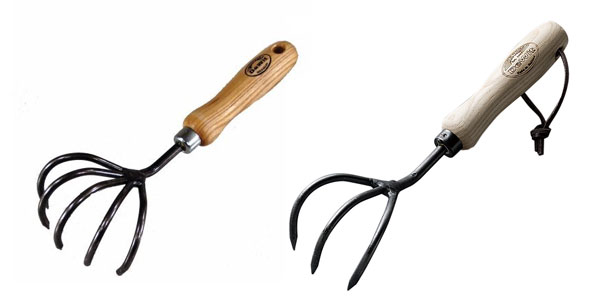 2.) Scraper Blades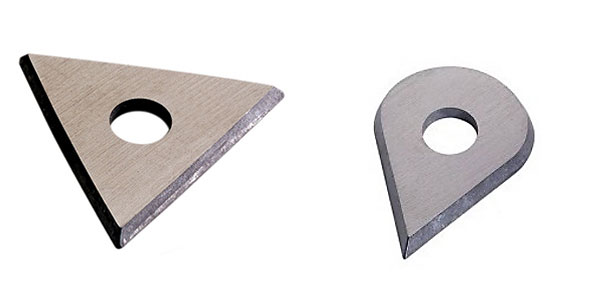 Wow, these really look like off-the-rack shuriken right? Well, they've got the wrong type of edging for a thrown weapon and don't have the weight to penetrate. Plus, let's face it, unless your dad owned a plumbing or flooring business and you were well known at the store for apprenticing during the summer, even the dope behind the register at the hardware store knows you're buying these with deluded dreams of Dudikoff-ness, and you'll likely be denied the purchase.
3.) Triangular chisels and carving tools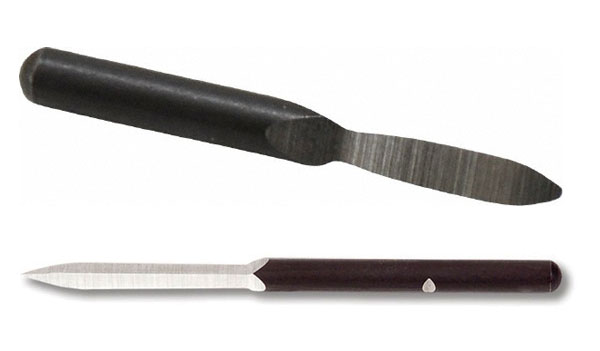 Find a heavy enough solid steel awl, wood gouge or spike chisel and it's pretty much a bo-shuriken already. We never did though. Despite having a strong tradition in Japanese martial arts and showing up in more historical records, the 80s were all about "ninja stars" and we didn't really have the literacy of these arguably more effective throwers. With myriad industrial and hobby applications (the above are both repair tools for stringed musical instruments) one could buy these things freely without looking too too much like a mass murderer waiting to happen, too…
4.) Meat and/or Fishing Hooks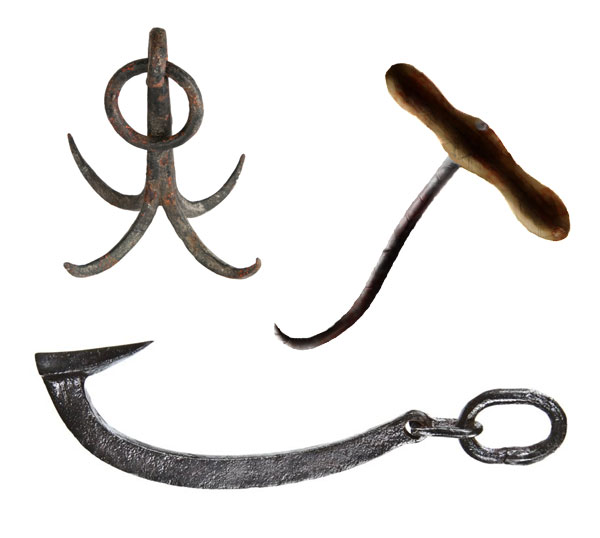 Another alternative to kanigawa climbing implements are common meat and fishing hooks. The trick here was to completely bypass the hardware and sporting good stores with their suspicious employees staring at your NINJA t-shirt, and snag rusty old beaters at flea markets as antiques. Y'know, for hanging plants from and crap, like for mom or something. Yeah…
Man, that bottom one looks like something out of Hellraiser or a Lobo comic!
5.) Pole Climbers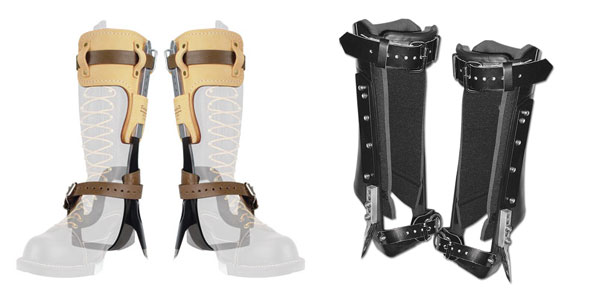 Here's a modern pice of hardware that's probably better than anything allegedly crafted by shinobi back in the feudal era. These lower leg gauntlets with spikes extending past the arch of the foot are used by electricians and lumberjacks alike. I remember watching a MaBell repair guy scurry up a phone pole like a… like a what… A NINJA!!!… right outside my 8th grade karate school, and it looked cooler than anything in any Canon film!
Now granted, you can't just buy these at any old shop. We always assumed you had to be some sort of licensed phone repair dude to score such gear, might still be true. Although EVERYTHING is available on eBay nowadays.
6.) Meat Handling Claws!!!
No shit, these are real, and you can get them on Amazon even!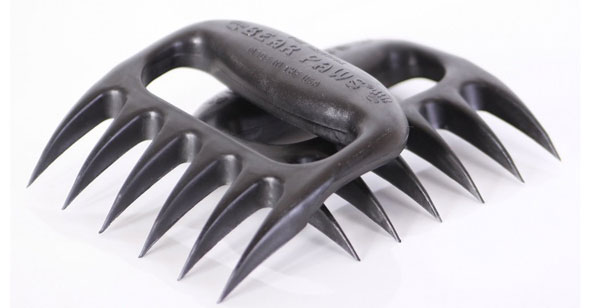 Y'know how pulled pork gets pulled? These bad boys right here. Yeah, had these been around and easily available back then, I'd probably just be getting out of the joint now having killed a kid or would still be sporting the scars of my own self-mauling during some spastic play-time night mission.
Fortunately, my weapon-smithing skills were absolutely abysmal, and I never hurt myself or anyone else. To this day I'm better at fashioning stage and screen props, which is what I should have been doing in the 80s. Why don't I have hours of video footage of home-ninja-movies???
Got any self-fashioned improvised hardware stories from your own misspent youth? We'd LOVE to hear them, and see pics too. Respond below or mail us at unknownpubs-at-yahoo-dot-com!
Oh, and if you're a parent, keep your kids out of hardware stores. Do the same thing and buy them skateboards, airsoft guns and fireworks instead…