There's been some nifty stuff on other sites I've been remiss in plugging.
New stuff at Kurotokagigumi this month, including the climax of Kage no Gundan Bakumatsu Hen (Shadow Warriors 5).
Way out there vintage Polish poster for Yojimbo, spotted by Wildgrounds. While there, the Japanese doco on katana choreography is pretty damn cool, too.
There's no better place for a martial arts film fan to waste some surfing time than Scott Adkins Fanz YouTube channel, which includes his 2010 fight reel. God almighty this guy is the savior of the MA action star!
Adkins is, of course, the star of our highly recommended fave of the recent shinobi-cinema spat Ninja, and the absolutely excellent Undisputed III. He's filming a movie called "Weapon" in Romania right now with Jean Claude Van Damme. PASS THAT TORCH, JCVD! This is your Black Eagle…
Schoolgirl Milky Crisis has a great article on the recent Kamui live action film and some questions on the very existence of ninja in the first place. Highly recommended write up! Not so much a recommended movie. Guess I should write a review of this at some point, but then I'd have to watch it again. Huh… guess that last statement was my review.
Check out Amber Skowronski's great illo of the cast of Legendary Weapons of China. Not a lot of people realize the ninja connection in this Shaw classic…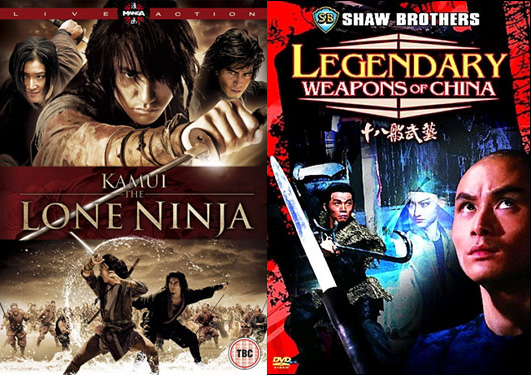 Teleport City's review of High Kick Girl is right on. I recommend seeing this movie — there are some absolutely awesome female fighters throughout — but man can it be a frustrating watch…
Speaking of not-so-ninja martial arts films (and I'm often frustrated I don't have a less niche forum in which to do so) I want to give an absolutely GUSHING, loving plug to an absolutely terrific Korean martial arts tournament flick most of the world has overlooked. Geochilmaru (aka The Showdown) is a near zero-budget movie with a large cast of legit martial artists. They go to a remote location and get in a LOT of fights. No digital, no wires, no bullshit. Great actors? No. Groundbreaking new ideas? No. Totally satisfying indie kick flick that leans on its strengths? HELL YES! This is a movie that is really about martial arts, and I just adore it!