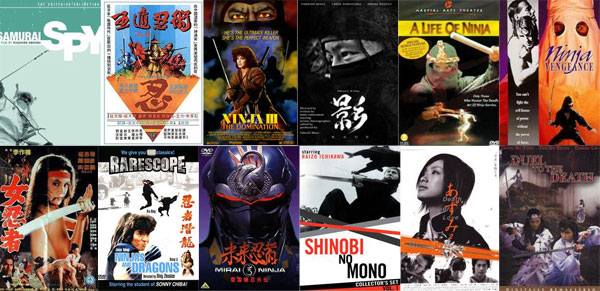 Working an intensified day job schedule with two big side gigs concurrent right now, so sadly I can't spend the time I want to in the ninja mines, however I did steal a few minutes away to create a couple of "Have Many Have You Seen?" lists over at List Challenges.
Let these keep you busy for a few minutes:
50 Ninja Movies You Should See Before Getting Blinded by Throwing Stars
and to keep the complainers at bay, the follow up:
50 MORE Ninja Movies to See Before Your Koga Rival Nails You With Blowfish Poison
…because you cats were right, there wasn't enough anime or any IFD stuff on the first list, plus I forgot all the smut.
Now, the requisite pre-emptive strike (that will do no good because haters gotta you-know-what) — these are not BEST OF lists per se, not ranked in any order, not meant to make comment via exclusion the lack of merit of anything and are by no means complete. Another 100 titles could be added easily, especially for Japanese source stuff and Godfrey Ho fare. (Hey, I gotta sleep sometime) These lists are just titles off the top of my head mainly, random order, a wide net cast, and no more editorial need be read into these lists. It's a time-waster aimed at regular folks that shows the depth of the genre and the global and generation reach of our hooded heroes.
So keep those 'well what abouts' and 'I can't believe this made it and this didn't's and whatnot in your pants for once. OK? OKAY!?!?!?
Enjoy all, or at least try to. The internet can be fun, you know…