The Samurai, starting in 1964, may have been Japan's first shinobi export to the English-speaking world, but that phenom was contained strictly to Australia. So for the rest of us, the first ninja we saw on any screen were flanking Sean Connery.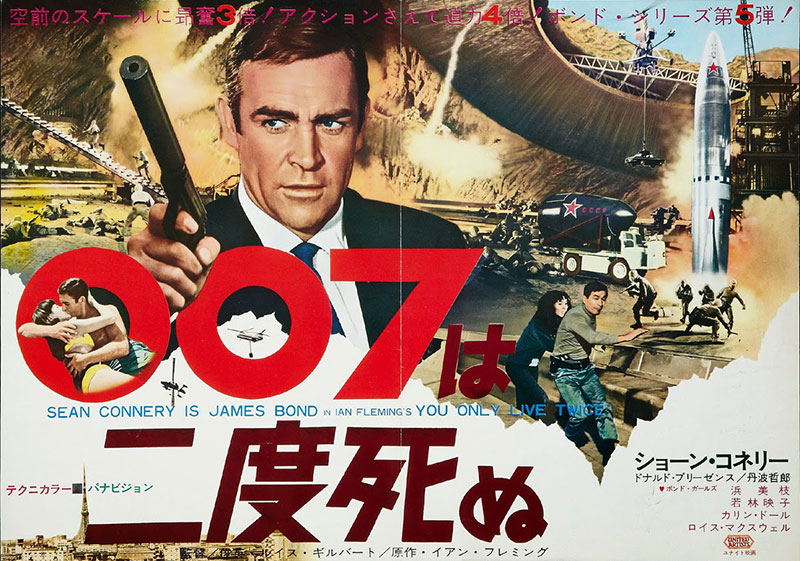 Fifty… yes 50… years ago, the rest of the world caught its first shrapnel from the 1960s Japanese ninja explosion, as James Bond and an army of modern shinobi wowed global audiences in the film franchise's fifth entry You Only Live Twice. The shuriken-slinging silver-screen shadows left an indelible impression on British and American audiences likely seeing any sort of ninja for the first time, and for Japanese audiences the film was a foreign studio's blockbuster franchise validating their homegrown martial espionage history.
But YOLT was more than just a cinematic first — the original book, tie-in newspaper comic strips, and a rare TV special preceding the film also provided a wealth of oft-overlooked ninja pop culture firsts as well.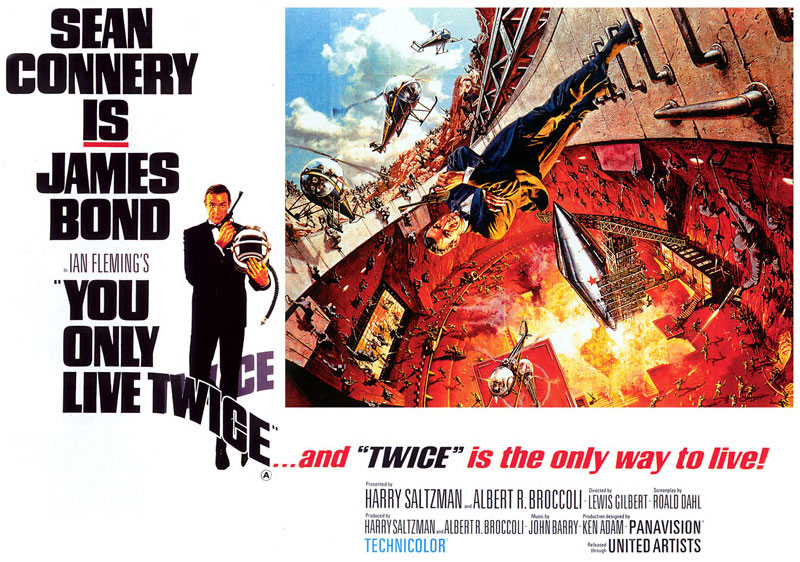 "Advanced Studies" – the first English-language ninja prose
The ninja elements of YOLT were likely germinated during an early 1962 research trip to Japan by the author of the Bond novels Ian Fleming. Himself steeped in the ways of spies and commandos from a storied military career, Fleming and two journalist friends (who would inspire characters in the book) spent time with Judo champion and Asian fighting arts enthusiast Donn Draeger. With the 60s ninja boom in full swing, the hooded icons were everywhere — movies, TV, books, comics, toys, ads for cars and kid's snacks. Whether it was the influence of martial artists or just osmosis of pop culture, Fleming saw a golden opportunity to snatch something to expose the West to for the first time.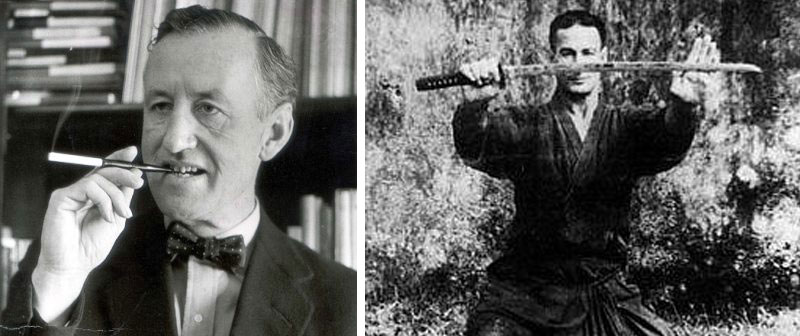 The novel You Only Live Twice was released in 1964, the same year the "Mist Saizo" reboot of Shinobi no Mono, Warrior of the Wind and The Third Ninja were in Japanese theaters, Ninja Kaze no Fujimaru hit kids TV and Kamui Gaiden changed manga forever. The 12th Bond story sees a bottomed-out secret agent on the verge of losing everything, unable to cope with the recent death of his wife at the hands of his nemesis Blofeld (YOLT and On Her Majesty's Secret Service were adapted in reverse order for the films). Bond is shuffled off by his bosses to Japan on a cupcake of a mission as a last ditch effort to salvage his career, and ends up entangled in the manipulations of the brutish head of the Japanese secret service Tiger Tanaka. Tiger pressures him to assassinate an outré foreign scientist, who in a remote coastal castle has created a "Garden of Death" infested with carnivorous plants, poisonous snakes, volcanic lava pits, piranha pools and deadly insects. The macabre nature preserve has become a Mecca-like spot for Japan's suicidal to meet their end, and a major black eye for law enforcement and government alike. Handcufed by honor and international protocol, Tanaka needs a foreigner to be the trigger man, and Bond becomes an expendable assassin critical to a high-governmental machination. Not an unfamiliar plot device to those of us who love shinobi cinema.
But the ninja-like political intrigue ends there as, via intel photos, Bond realizes the bizarre botanist is none other than an on-the-lam Blofeld in disguise, living a second life alá Momochi Sandayu in Shinobi no Mono. Now driven by personal revenge, he agrees to play the part of Tanaka's errand boy.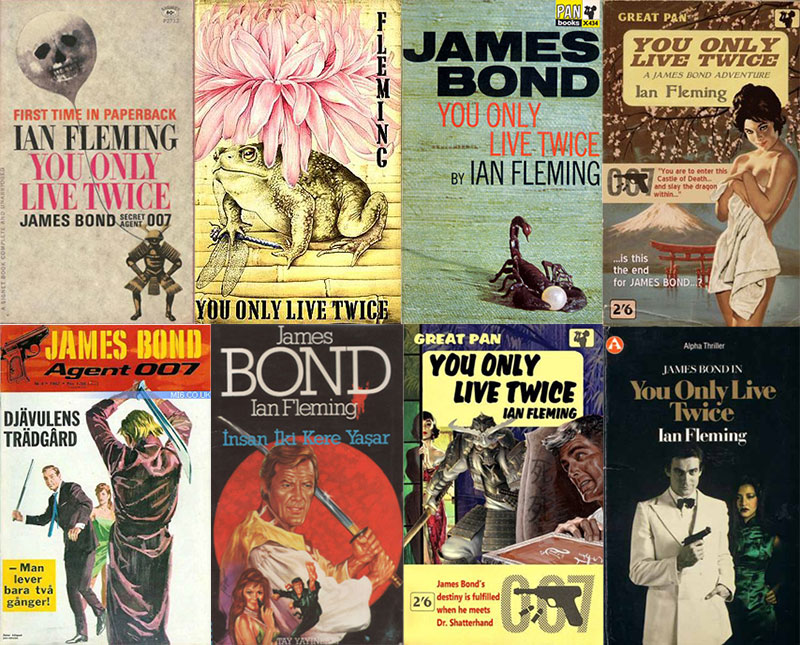 But its no silenced Walther PPK or sniper rifle assembled out of a brief case for Bond this time — when in Japan, these things are done ninja-style. In the history-making chapter "Advanced Studies," Tiger Tanaka takes Bond to the 'Central Mountaineering School,' a hidden training compound where 007 gets a crash course in the centuries old arts of Iga and Togakure ninjutsu. Night-black and woodland-camouflaged shozoku, kaginawa grappling hook techniques, mizuguno water spiders and more are demonstrated for the somewhat skeptical mod spy. Tanaka is sternly defensive:
…my agents are trained in one of the arts most dreaded in Japan—ninjutsu, which is, literally, the art of stealth or invisibility. All the men you will see have already graduated in at least ten of the eighteen martial arts of bushido, or "ways of the warrior", and they are now learning to be ninja, or "stealers-in", which for centuries has been part of the basic training of spies and assassins and saboteurs.
Bond's typical Brit-colonialist smirk towards the ancient Japanese arts ends quick though, as he is schooled by Tanaka on the necessity of things like a manriki chain hidden in a belt and a simple short fighting staff when operating undercover in a part of the world where guns are strictly illegal and a dead giveaway as to one's spy status.
Bond is also schooled in how to act Japanese and is disguised, somewhat ninja-style, as a local coal miner. To further the cover, he is embedded with an Ama pearl diver named Kissy Suzuki, a perfect guise to get him close to the shore cliff castle. After some straight up ninja infiltration, Bond finds Blofeld in the Garden of Death, clad head to toe in samurai armor for protection from his own plants. A climactic battle of staff and sword ends with Bond choking the SPECTRE mastermind to death in a brutal moment of raw retribution.
You all remember this from the movie, right? Bond burned out and near suicidal, Donald Pleasence in full Shogun regalia, surrounded by Triffids? No???
Well, that's because after Ian Fleming's death in '64, the films started getting a bit more over the top, even sillier, and traded legit espionage for explosive action and gimmick gadgets. By Thunderball all bets were off on spectacle and expense. YOLT would be the first of the films that totally deviated from its literary source, retaining only the title, a few broad situations, and some character names, for a result unrecognizable from the book.
Strips… Comic Strips
The first adaptation of YOLT was actually in newspaper comic strip form. The London Daily Express started adapting Fleming in 1958, and when the movies hit a few years later the 2-3 panel daily strips bridged the look of the Connery films with the prose of the original stories.

YOLT was syndicated worldwide from 1965-66, artist John McLusky providing what was likely the first ninja in illustrated comic form that any given country outside of Japan had seen to that point. Tanaka's ninja school scene was metered-out over nine issues.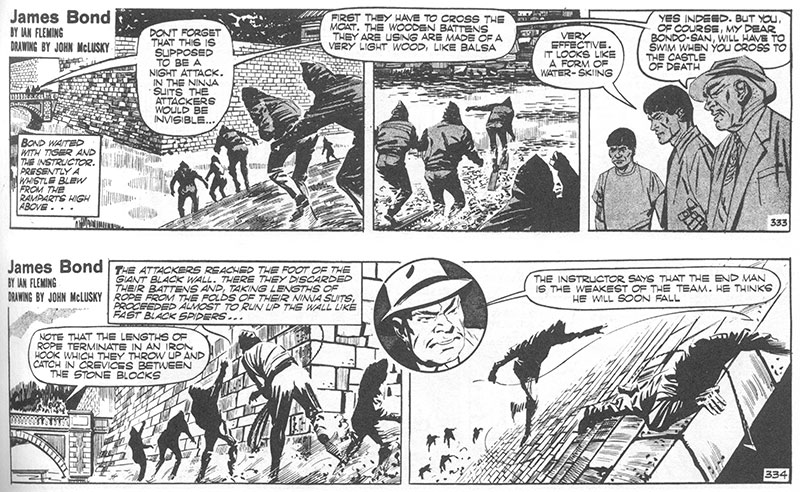 The artist did his homework on Blofeld's plant-proof samurai suit, but chose to forgo Bond in full ninja gear. The strips also veered from the book a bit in having Kissy accompany Bond on his infiltration of the castle, and Blofeld's death is blunted in a way that left room for him to return in the future.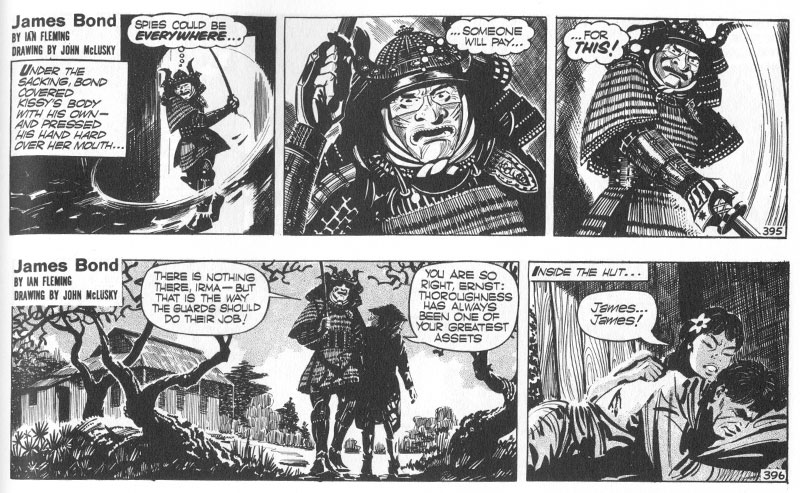 McLusky didn't seem to have a firm grasp on the ninja suit, but his phantom-like shrouded shinobi are a significant footnote in the history of ninja media outside of Japan.
And… they'd be a lot closer to our idea of ninja than what was to be seen on screen a year or so later.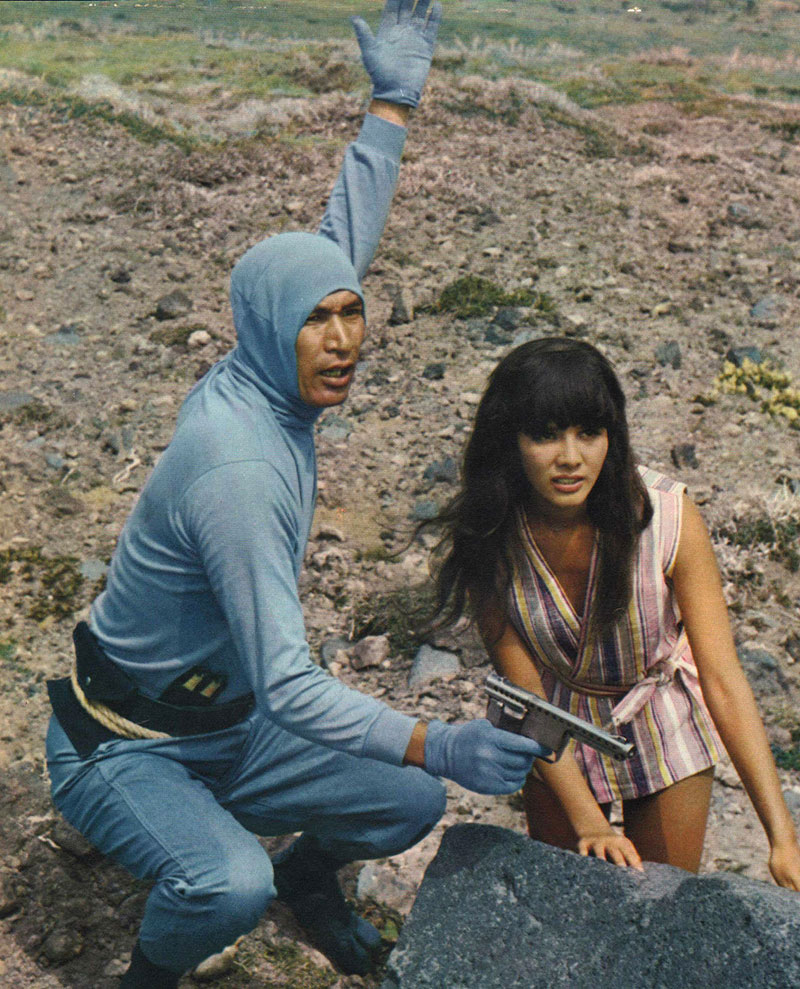 Enter the Scottish Ninja
With vast amounts of the book discarded completely, we can thank the omnipresence of pop culture ninja in mid-60s Japan for swaying the filmmakers to retain the book's martial arts elements for the big screen YOLT. Producers Albert R. Broccoli & Harry Saltzman and director Lewis Gilbert had followed Fleming's footsteps for scouting trips to Japan and been treated to local ninja demonstrations, press cameras blazing around them.
One final opportunity to take in a ninja exhibit led to the crew changing a flight back to England, and the original flight subsequently crashed killing all on board. So ninja literally saved the Bond franchise.
The film's writers Harold Jack Bloom (veteran of shows like Dragnet, Adam 12 and Emergency!) and Roald Dahl (of Willy Wonka and Chitty Chitty Bang Bang fame) also spent time in Japan, equally exposed to the ninja craze, and it shows. Debate has ensued since as to whose ideas were whose, but clearly someone saw Shinobi no Mono and its ilk, as scenes common to ninja village training montages are mirrored directly during Bond's tour of Tiger's compound.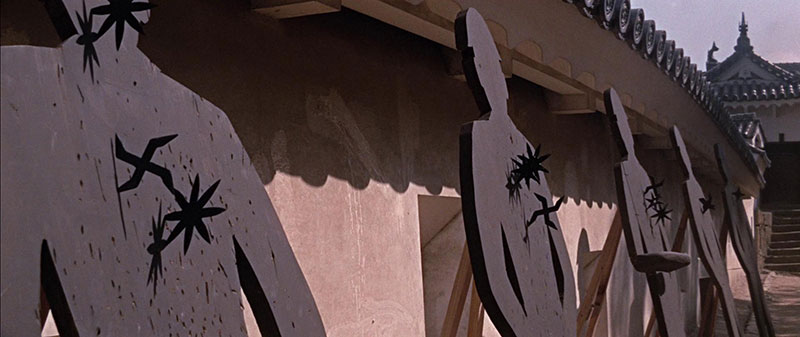 Dropped was the entire Garden of Death angle (and thankfully Fleming's notions of the Japanese preoccupation with suicide). In the essentially non-existent 'continuity' of the Bond film universe, he had yet to marry and lose his wife to Blofeld, and was not on the down-and-out spiral that began the book. A sci-fi-laden new plot became central to Bond's deployment to the East — the easy crutch of the Cold War laced with the space race providing a stage for SPECTRE hijacking American and Russian space capsules to a mega-chop-shop hidden in a dormant Japanese volcano. So as usual, it's up to the British secret service to prevent WWIII.
But they can't do it without ninja! Enter the film version of Tiger Tanaka, portrayed as suave and resourceful by Japanese screen legend Tetsuro Tamba. Had the book's physically imposing and brutish Tanaka been faithfully adapted, he would have closely resembled Goldfinger heavy "Odd Job" as portrayed by wrestler Harold Sakata, and that may have jilted audiences. The film's Tiger was more a tech-savvy shadow living a secret but swag-as-hell lifestyle, a Japanese version of Bond, played by an actor of deliberately smaller physical stature than the franchise's star.
It also helped that Tamba was no stranger to the ninja genre!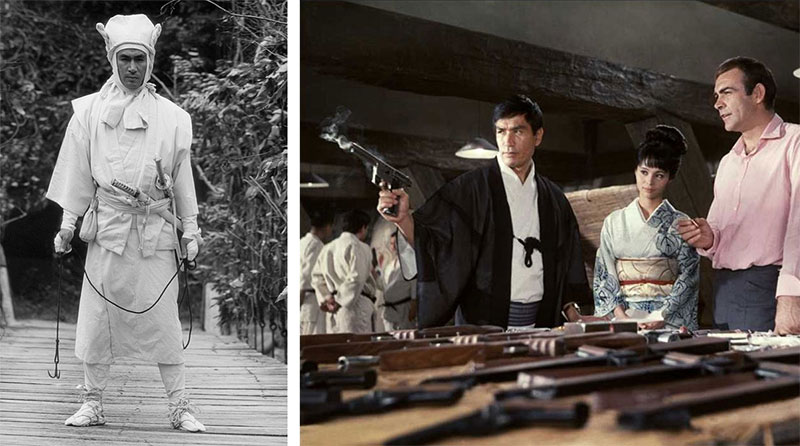 As more spacecraft go missing, the super-powers blame each other and tensions escalate. Bond discovers the secret volcano lair via the famed mini-gyro-copter "Little Nellie" but the clock's ticking and plans are afoot. In the shadow of the iconic Himeji Castle, movie-Bond get his introduction to movie-shinobi.
Bond: We'll need a company of first-rate men. Do you have any commandos here? 
Tiger: I have much much better — ninjas. Top secret, Bond-san. This is my ninja training school.
Bond [smirking]: Ninjas?
Tiger: The art of concealment and surprise.
This being said as dozens of screaming martial artists charge into cacophonously loud practice routines. YOLT gets, and doesn't-get, ninjutsu in equal and undulating amounts.

But the notion of a modern ninja army training at an ancient landmark is just awesome. Tiger's ninja are top secret, but top secret from who? The public who considers them a myth once outlawed in the feudal past, or merely cartoon superheroes? His own Japanese government even? Tantalizingly little insight is given, leaving plenty to the imagination of the ninja-movie savvy.
Consistent with the film's effort to portray a Japan as technologically progressive as it is steeped in tradition, Tiger's ninja themselves epitomize harmony of modern and ancient. While traditional budo is practiced above ground, in a secret labyrinth below, experimental high-tech weapons and tactics are honed. Traditional shozoku shed in favor of modern grey fatigues, turtlenecks and cowls, they go into battle with ancient kaginawa grappling hooks in tandem with the latest in suction cup cat-burgler tech, sword and shuriken alongside futuristic rocket guns.
Hokey as the ninja rocket guns in YOLT seem, they were actually a real thing.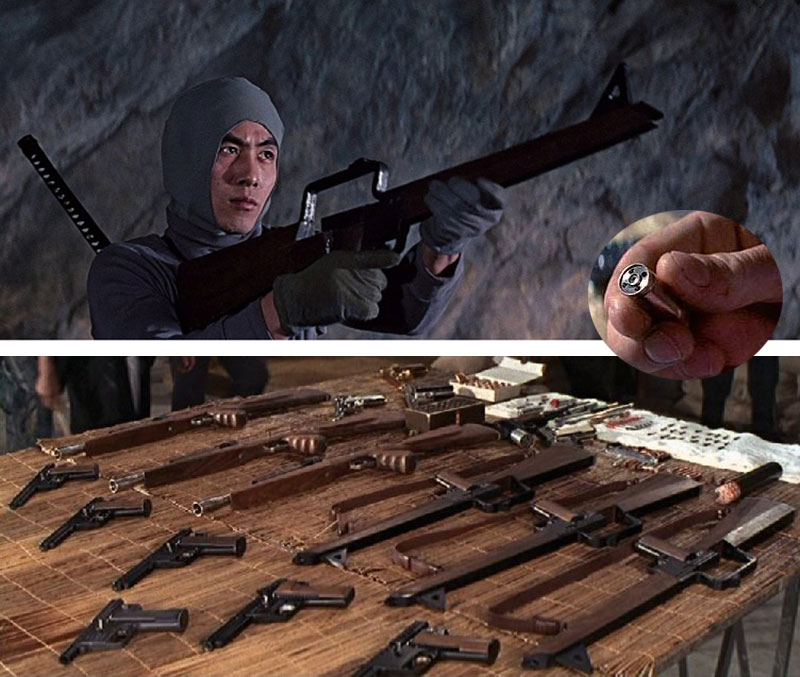 Some frustratingly stupid scenes follow though, as Tiger insists on taking a few precious days while the world is on the verge of nuclear annihilation to give Bond a crash course in bo-staff fighting. But not before the debacle that is "First we must make you Japanese." The disguise scene, which in the book somewhat worked, here is an absolute joke, and Connery's bad wig and augmented eyebrow look is universally reviled even by the most loyal of Bond apologists. Of all things to have not cut from the book… and it's not even necessary. There's no need for Bond to lurk around as a local gathering intel — they know where the volcano is, they know it's a secret base. Let Tiger's ninja commandos do the recon and infiltration, and drop Bond in by jetpack at the last minute!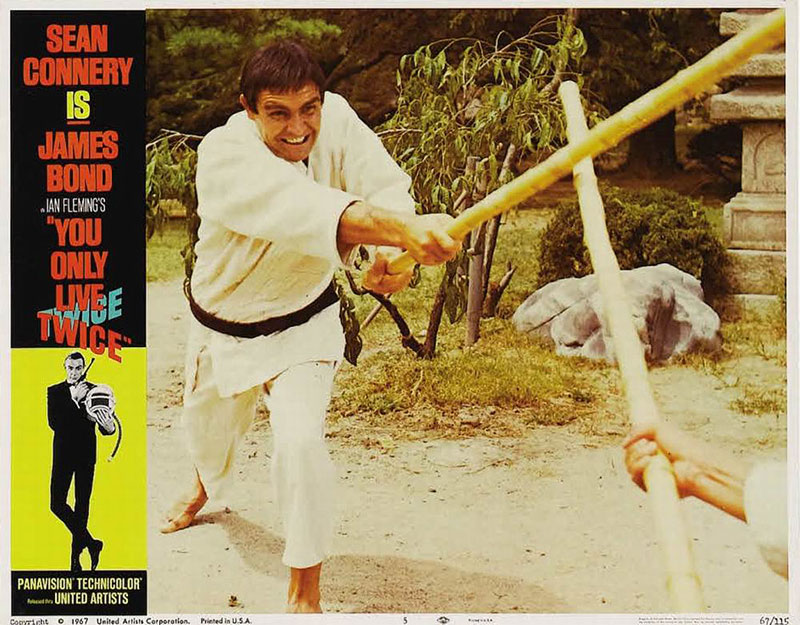 This nonsense is followed, however, by the most pure ninja scene in the whole movie — the famed poison-down-the-thread sequence — almost frame-for-frame lifted from the first Shinobi no Mono film. Granted, there are only so many ways to shoot some things, and if you're going to crib a scene, do it from the best! These first ninja scenes seen in the West were photographed by Freddie Young, previously responsible for the camerawork on Lawrence of Arabia and Dr. Zhivago — films that were hardly a practical primer on how to capture dozens of shuriken hitting targets or arcane assassination techniques, so much of YOLTs ninja elements were liberally borrowed from Japanese sources.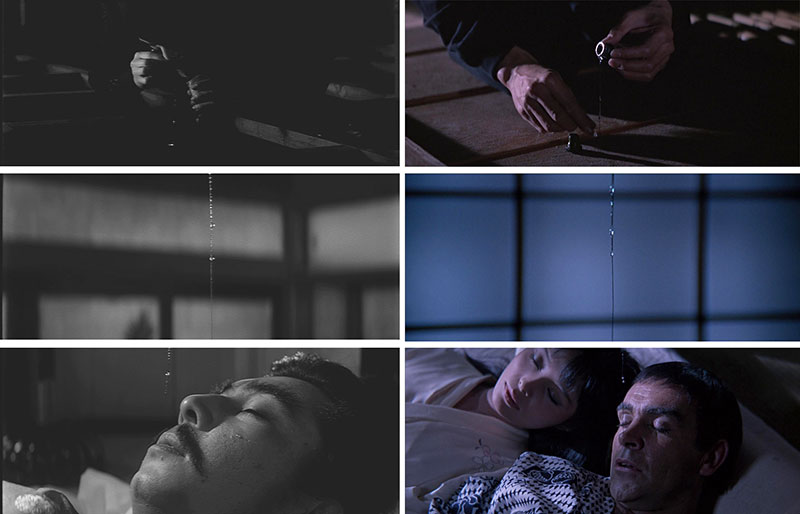 Donn Draeger's influence on YOLT continued, as he was hired to train and fight-double Sean Connery on set, at least while they were in Japan. Dragger's and a few other consultants' lessons evidently didn't take so well because Connery's staff fighting is abysmal. The actor was on bad terms with the producers even before the fifth Bond flick started shooting and had a legendarily contemptuous relationship with the Japanese press, so spirits on set could not have been high and the result shows in low-energy fight scenes.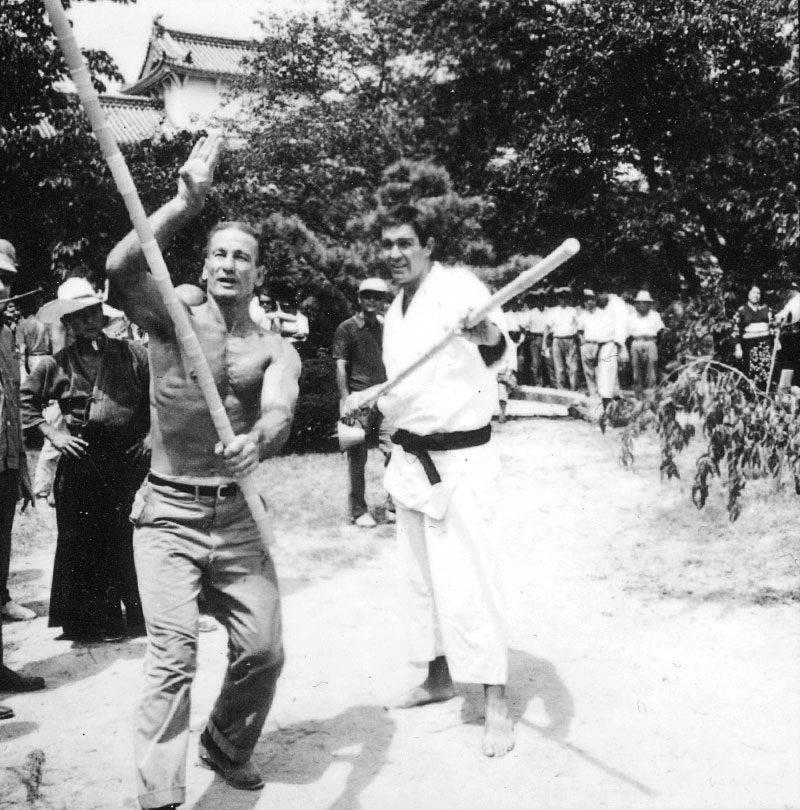 When Connery dons the ninja gear it's downright sad. This is where a traditional ninja suit, or at least a full balaclava-style face mask, could have saved them, as it should have been the obviously more fit Draeger doubling all his costumed scenes…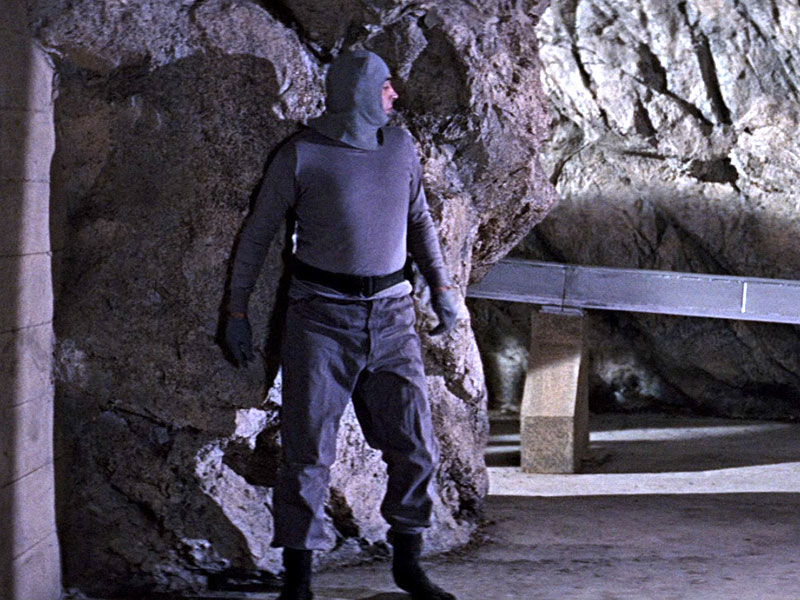 Japan's most famous ambassador of all things ninja, Masaaki Hatsumi, was also on the YOLT set, even getting a bit part during the underground train scene. According to pioneering ninjutsu author Andrew Adams, who threw all sorts of shade on YOLT in the August 1967 issue of Black Belt, Hatsumi and a few other consultants washed their hands of the project in frustration that their art wasn't being done justice.
Adams' scathing article from Black Belt is available to read here.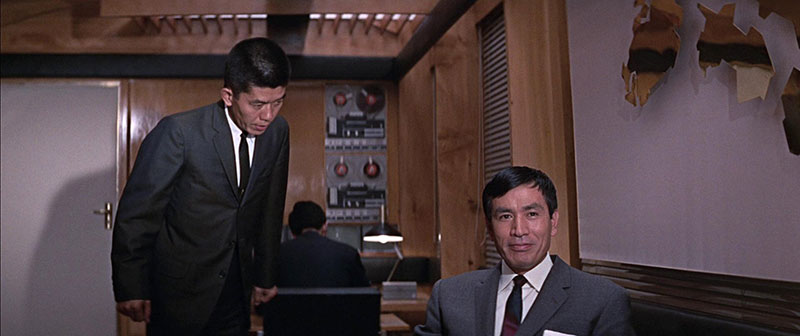 Filming of most of the final ninja assault was moved back to Pinewood Studios in London. Lore (aka studio-spun fish tales) states that over 100 of YOLT's ninja were flown in from Japan, but reality is something different. Over 150 stuntmen, basically every qualified rope-slinger in Europe, were imported for a genuinely spectacular mass line-decension inside a set half the size of a soccer stadium. The thing was literally big enough to land a full-sized helicopter in, and was the franchise's biggest and most expensive construct to date. This scene is the best illustration of how bloated and opulent Bond was at the time and the excesses they were willing to go to to top the previous film.
Peppered in with the stuntmen were some of the Japanese martial artists from the training compound, and a few instances of shinobi-like scaffold crawling (mirroring castle crawlspace scenes in myriad Japanese films) and typical chambara swordplay stand out amidst the chaos of traditional gunfire and explosions. Beloved and memorable as these bits are (particularly with British audiences who had nothing to compare them to), they leave much to be desired for anyone with a decent Japanese cinema collection. Being done back in England, it's hard to determine if Draeger or anyone else was on set, and the crew behind the camera was not exactly the most ninja-literate.
And like many other ninja army scenes, bulk-produced 'one-size-fits-all' costuming often doesn't hold up to scrutiny.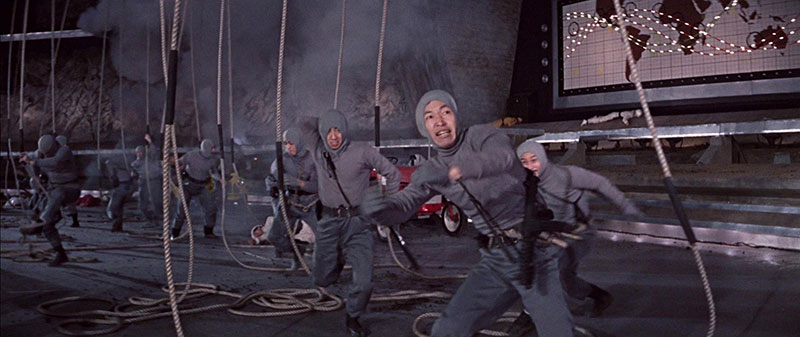 For his supposedly vital crash-course in ninjutsu, Bond never even picks up a staff (or a rocket gun for that matter). In a poorly-constructed sequence he does throw a shuriken into a guard's chest, but a better-shot scene has Tanaka disarming Blofeld with one a few moments later. This particular star design, with what looks like rivets in the center, is rather fascinating.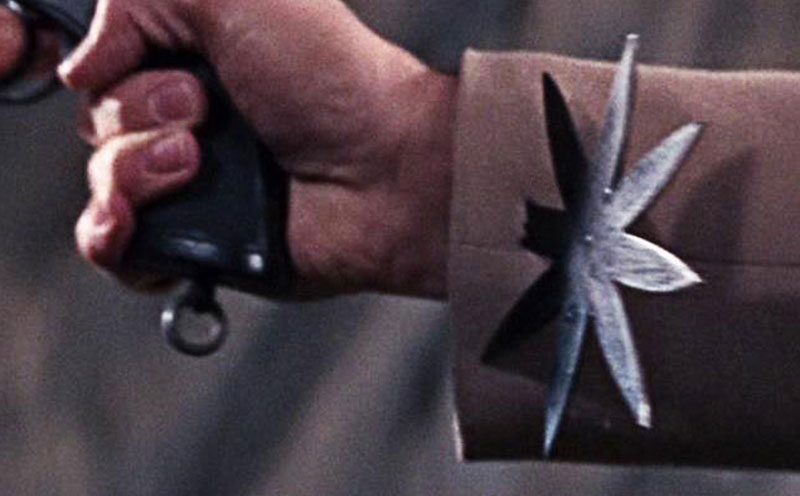 When all is said and done, the ninja army could just as easily have been squads of SAS commandos or various other U.N. special forces. Bond's own Naval background and subsequent specialized 00 training would have covered knife-throwing anyway, so the entirety of the ninja elements were really just imported exotic-looking seasoning on the same old dish.
Second Coming
Since day one, Bond films have, deservedly, come under attack for their treatment of women as one-dimensional used-and-abused sex objects, but YOLT took things to another level. From the pre-credit sequence of Bond being betrayed by an evil Chinese 'dragon-lady' to Tiger's squad of bikini-clad neo-Geisha bathers, any complaint you ever read of orientalism, 'othering' and infantilizing ethnic women, 'yellow fever,' whatever, are pretty much legit. Un-defendable cheese like Tanaka's infamous line "…in Japan, men always come first, women come second" makes one more and more uncomfortable, or outright disgusted, with YOLT fifty years later.
Bond scripts, by actual policy dictates of the producers, had him bedding at least three women per film — typically a first-act beauty often meeting a tragic end, then a villainess to seduce and interrogate, and a third act damsel in distress he ends up in flagrante with only to be discovered by his bosses in that requisite "Oh 007!" end shot. YOLT had the opportunity to break that mold as two of the film's 'Bond-Girls' are kancho-like shadow-skilled agents of Tiger's, and that's where our complaint about women in YOLT lies — the lost opportunity for modern kunoichi.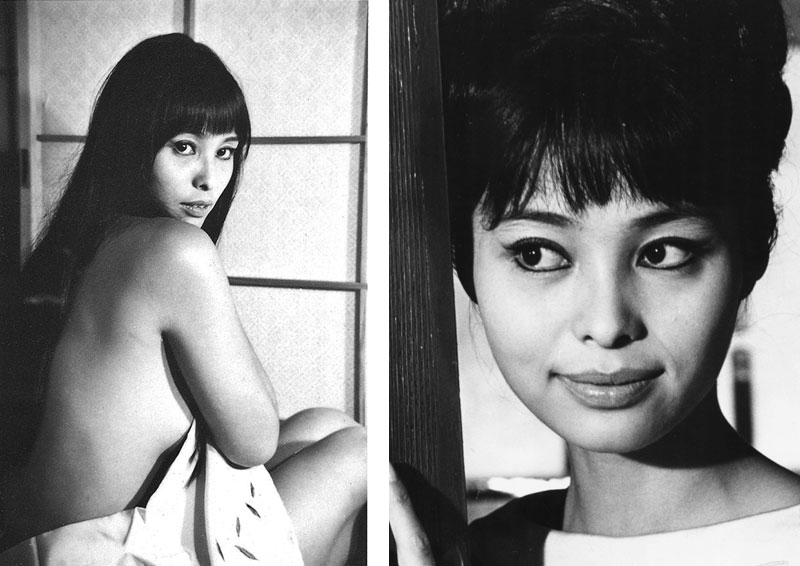 The absolutely stunning Akiko Wakabayshi, veteran of kaiju-fare Ghidora the Three Headed Monster and Dogora, plays "Aki" who much like Kohagi in Castle of Owls is a potentially dangerous woman of cunning and skill who may or may not be on our hero's side. Not part of the original book at all, Aki was designed to represent the new, mod woman of Japan's future, who augments ages-old kunoichi skills of infiltration and info gathering with a gadget-filled spy car that saves Bond's neck twice. Wakabayshi just owns the screen, and a better movie would see her with a meatier action role, but alas, she was a first-act Bond Girl and the poison thread awaited…
So enter our bikini-clad Ama diver Mie Hama. In the "Mad Men era" and for a certain breed of individual, "Pearl Divers" = topless smut, making key issues of National Geographic and "artistic" photo books on the subject highly sought after for all the wrong reasons. The producers of YOLT were definitely looking for flesh on screen (watch this episode of the Brit TV doc-series Whickers World for actual footage of them clashing with actresses over being exploited for cheesecake), so Hama's role was already more objectified than usual. Despite this, she could have had some claws… literally.
The "Kissy Suzuki" of the book, while certainly under the influence of Tanaka, wasn't an outright card-carrying spy-deb, but the film upgraded her to a full-on field agent. However Hama's English was so bad, her speaking part was slashed to a bare minimum and the role was cut down. We don't see her do a whole lot other than pose as a bride and act as a messenger, and she didn't even get to change into cool ninja gear for the final assault. This behind-the-scenes shot below of the actress posing with traditional kaginawa is as close as we get to anything legit kunoichi, but no such scene appears in the final film.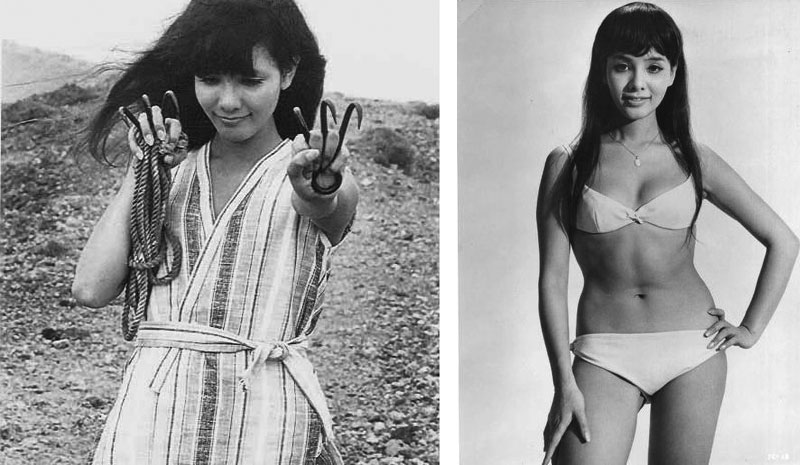 The contrast of what YOLT could have done with these otherwise 'eye candy' female leads is more acute when you look at the contemporary ninja films coming out of Japan that had superior female action roles — the afore mentioned Castle of Owls, Akai Kageboshi and Seventeen Ninja coming immediately to mind.
Stars… Throwing Stars
Now, do pay attention 007… Technically, YOLT was not the first time an exotic ninja arsenal was seen on the screen by a Western audience. A one-hour teaser special called Welcome to Japan Mr. Bond was assembled by the studio for British TV in advance of the box office premiere. The big shocker lead was the news that James Bond was finally getting married, but to which of the storied Bond Girls? Recurring cast members like Desmond "Q" Llewelyn and Lois "Money Penny" Maxwell shot new segments to serve as mortar between rehashed clips of love scenes and action sequences from the first four Bond films. These sorts of 'greatest hits' specials were a boon for audiences in the days before cable reruns and VHS, as they were literally the only way one could relive the past movies, save for occasional network screenings.
At about 45 minutes in, Moneypenny tracks Q down in MI6's underground weapons lab, littered with props from the previous films, and particularly the components of Little Nellie. She sees a table full of quirky antiques and can't help her curiosity. Q informs her they were sent by Tiger Tanaka, and describes the relics as "An odd mixture of the very modern and the very primitive… Some of these weapons have been in existence for centuries!"
After an eye-opening demonstration of an explosive "black egg" (although these were white), Q points out a kaginawa "used for wall scaling" amidst an arsenal of spears, halberds and kusarigama. Then he and two lab techs start throwing shuriken around like they're playing drunken darts in a pub.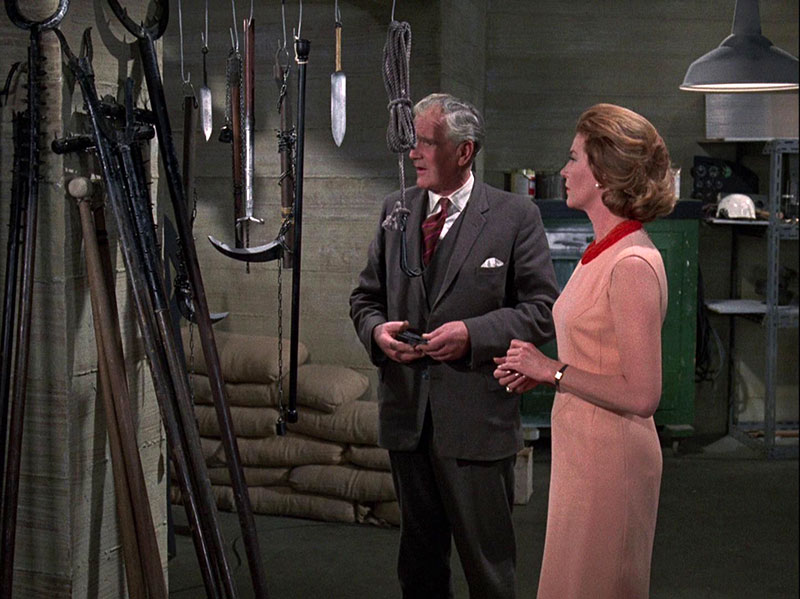 The weapons and props here are absolutely legit too, right off the wall of some dojo, nothing out of a catalog…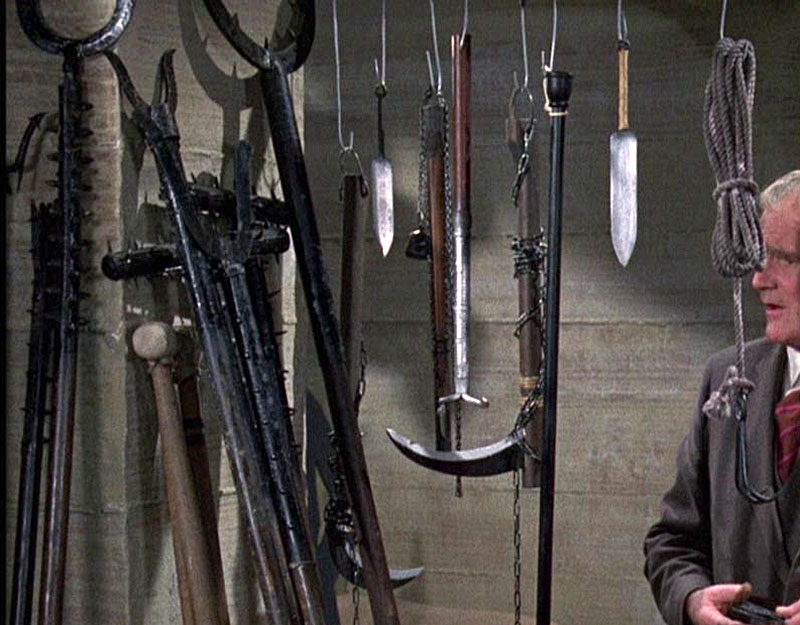 Welcome to Japan Mr. Bond can be found on the latest DVD and Bluray discs of YOLT. I love this tiny little nugget, and I love the idea that all this gear is somewhere in London waiting to be rediscovered.
Cars… Plastic Cars
I'd love to live in a world where YOLT, merchandised to the gills the way films post Planet of the Apes and Star Wars were, inspired a line of little plastic shuriken emblazoned with "007" stickers, or vinyl Tanaka ninja figures on zip lines with a cardboard volcano backdrop. Sadly, this is not our world.
Bond didn't pack his signature Aston Martin for the trip to Japan, so the most plentiful merch to come out of YOLT were replica Toyota 2000GTs. Much was made of the car at the time, being a custom convertible specially modified for the film (and Connery's size), and miniatures augmented with non-film but play-friendly features like hidden missiles abound.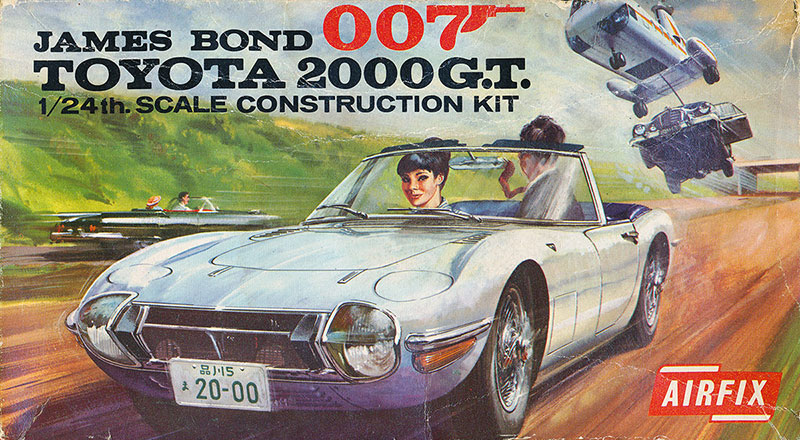 Reissues of 1967 toys from companies like Corgi are easy to find nowadays too, alongside new fare like this superb Little Nellie.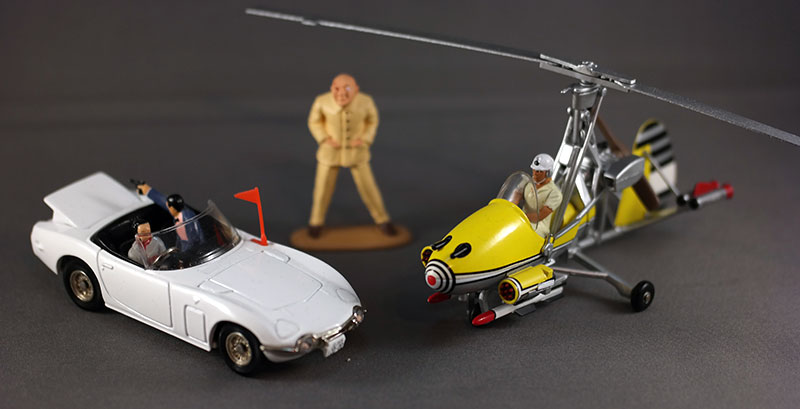 Below is my original Corgi #336, complete with its little rubber driver figure of Aki. I only bring this up because if… IF… you consider the Aki character to be a modern kunoichi, then this little 1967 nubbin is indeed the very first ninja figure made in the West.

A stunning likeness, no?
I also LOVE this Rising Sun-like kanji-emblazoned badge on the bottom of the car!
Alas, the tiny rubber Aki was the only Japanese element adapted to merchandise. Brit figure manufacturer Gilbert steered away from the ninja outfit in favor of Bond in his sailor gear from a brief scene at the film's beginning. Toy weapons were merely repackages of previously molded Walther PPKs with box art that usually depicted the volcano. If YOLT had been released in the 80s, the merchandise would have been an entirely different story!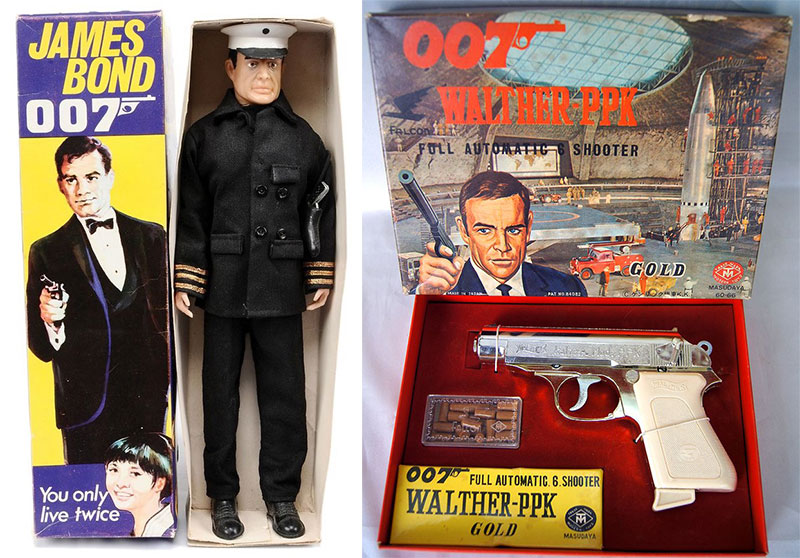 But man oh man was there some weird cool stuff in Japan! The below "Marui Spy Arm Series" model kits, crazy obscure until a full run of them showed up on North American eBay earlier this year, aren't officially YOLT licensed, but the manufacturer was clearly honing in on what was hot in 1967.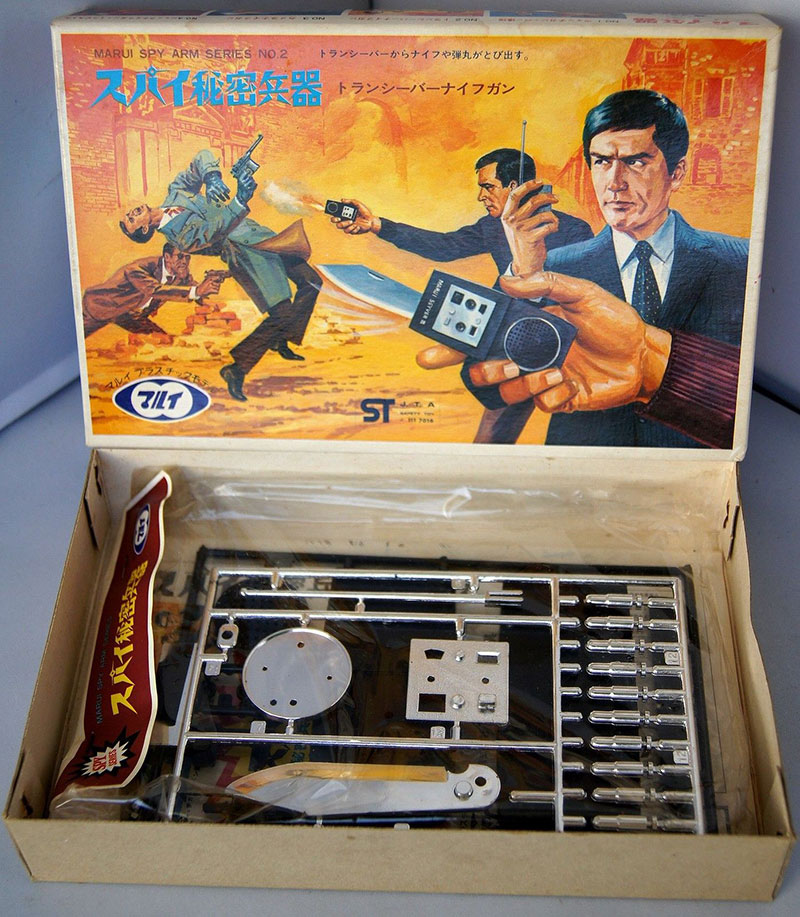 Great painting of Tetsuro Tamba! I love that these semi-functional model kits were just as hybrid of ancient and modern as the movie was — they're blade-based high-tech gadgets.
Seems like similar kits were knocked-off for Bond and Tiger's competitors, too! Maybe this company had pockets deep enough to license both big properties, but the lack of any "007" branding or The Man from U.N.C.L.E. logos leads me to believe they just liberally suggested officialness in their package art.
Each of these went for upwards of $500 if you're curious… (and, NO, I was not the buyer, dammit)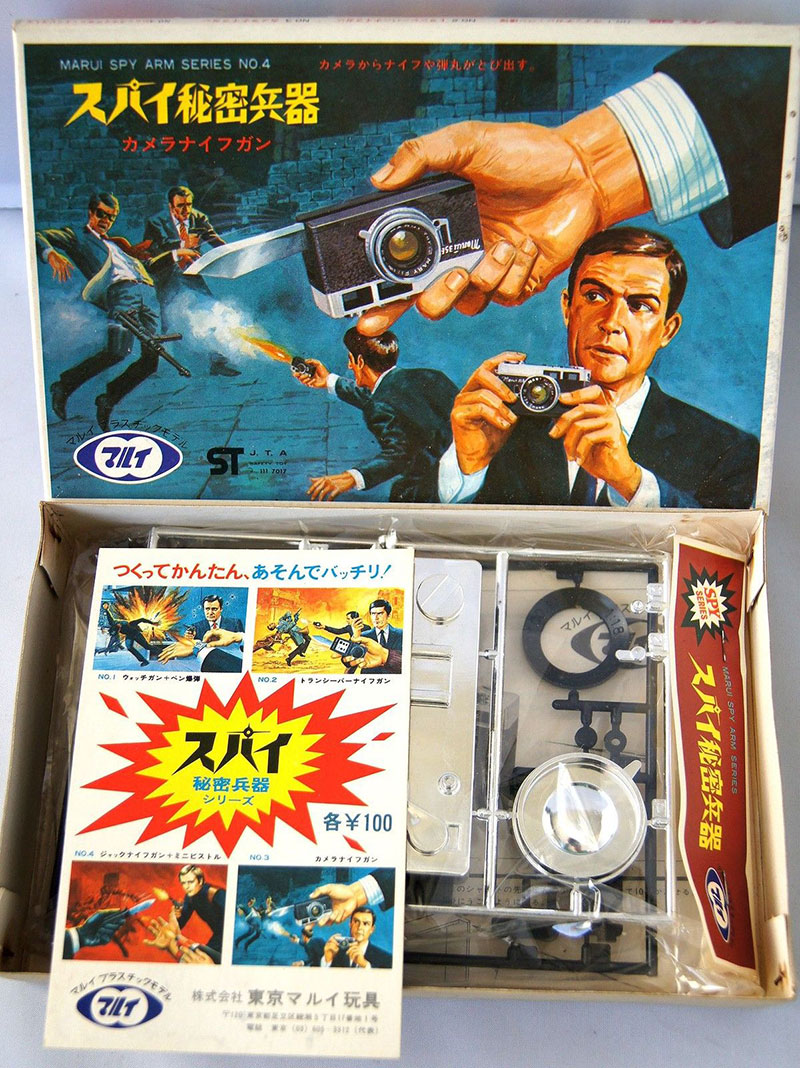 YOLT wouldn't see much other licensing util the RPG boom of the 80s, when the Bond films were adapted into spy versions of Dungeons and Dragons. I dig the cover art for the module book below, which keeps the repelling ninja army while going a little nuts on the hero costuming.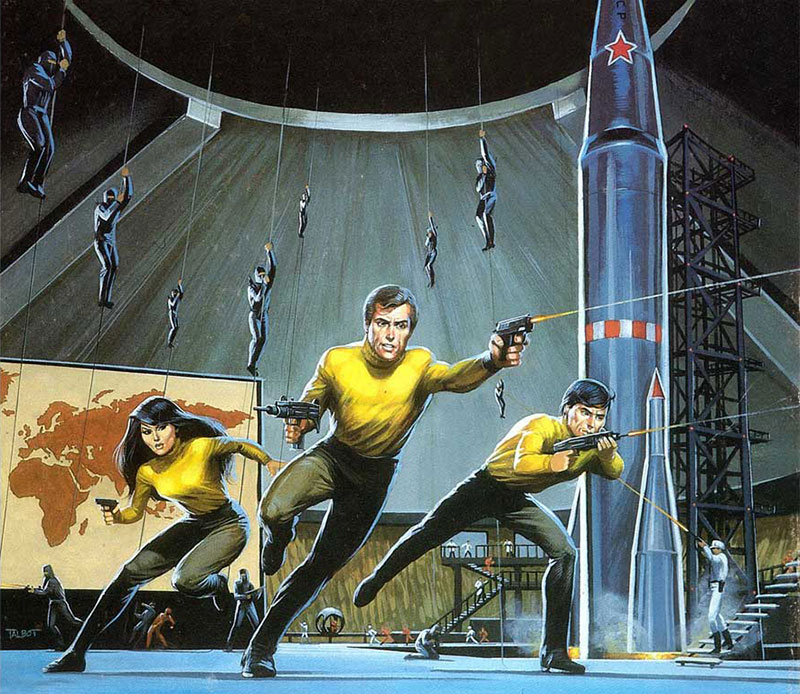 And this one is 100% a product of the 80s ninja craze.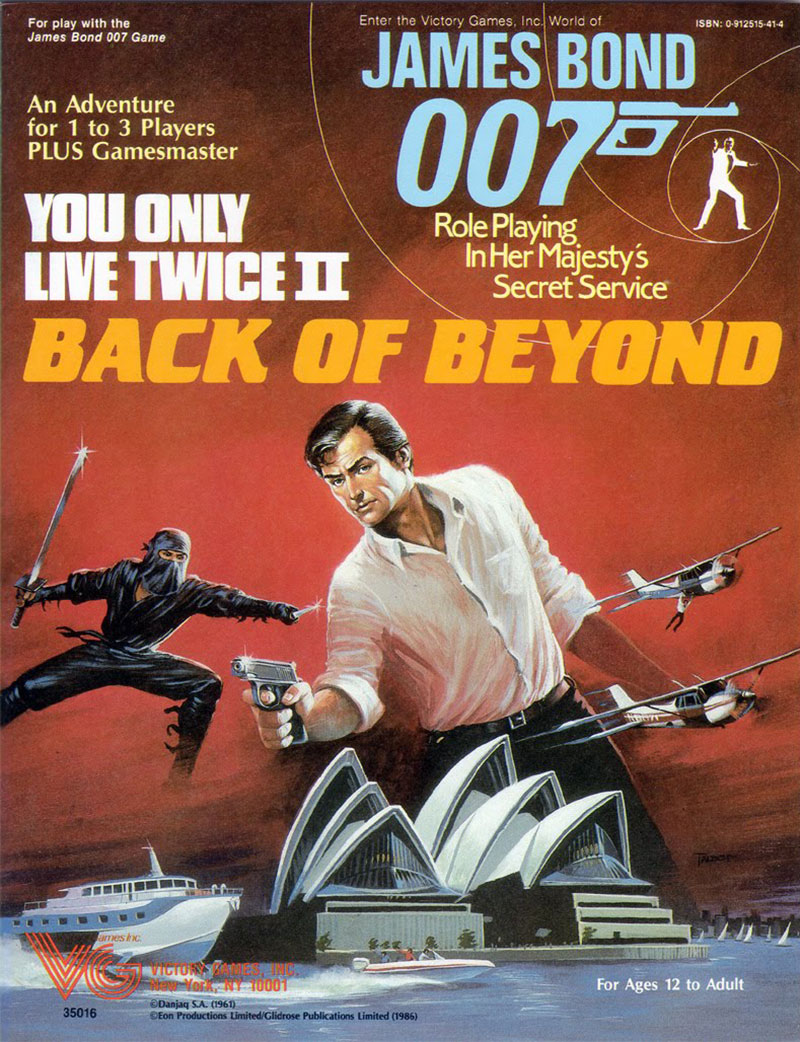 To this day, no one's produced any proper ninja toys from YOLT. I just can't forgive this plane of reality for that.
You Only NIN Twice
Post YOLT, Connery would leave the franchise, the superb John Barry score would be shamelessly stolen for dozens of cheap kung-fu flicks from Hong Kong, Tamba would star in another 72,000 jidai-geki films and, notably for our purposes here, Japan's answer to The Man From UNCLE, I-SPY Mission: Impossible and the lot — Key Hunter. Mie Hama had a date with a robotic gorilla in King Kong Escapes. Poor Akiko Wakabayashi, after surviving monsters like Godzilla and Sean Connery, retired from an on-set injury, having made just two more films.
Donn Draeger would go on to publish his pioneering book Ninjutsu: The Art of Invisibility. Teaser copy on the cover read:
Asia had the original James Bond. Here in this fascinating book read about the ninja, the masters of invisibility and deception who flourished as highly trained espionage agents in feudal-age Japan.
Audiences in the West wouldn't see those ninja again until the 1970s, with wildly inconsistent portrayals in TV shows like Kung-Fu, Baretta, Quincy, M.E. and the contemptible Sam Peckinpaw film The Killer Elite.
Two decades later, ninja, of a sort, would return to Bond though, as more traditional shozoku-like stealth suits were briefly used by high-kicking, net-flinging members of a Hong Kong drug police unit in the Timothy Dalton-led 1989 film License to Kill. The squad was commanded by Japanese-American genre actor Cary-Hiroyuki Tagawa in a bit part, playing Chinese. I remember first seeing this film, thinking for a minute he was a reboot of Tiger Tanaka, hopes immediately crushed… another grudge I hold with reality.
Despite the world-wide ninja craze of the previous seven years before License, this would be the closest the franchise ever got to the feudal era equivalents of its "00" agents again.
When You Think Twice…
You Only Live Twice isn't a ninja movie to most of the world, but it is a lot of different things to different people. Bond fanatics at the time were fixated on Connery's much-ballyhood departure from the role, announced mid-production and taking all sorts of fire away from the opening. Bond fans now can look at it as the end of the classic Connery run. Few can argue this particular John Barry score ranks among the series' best. The massive volcano set is immortalized in Bond lore as the apex of architectural extravagance. The Little Nellie helicopter scene, gratuitous as it is, remains one of the series' best dogfights and that gyro-copter has toured the globe. For feminists YOLT is perhaps the most egregious of the films. For book fans it's the sad end to the "Blofeld Trilogy" and Fleming's last, and perhaps least, work. YOLT is also the source of much of what was parodied the the Austin Powers films, and younger audiences just can't watch it with a straight face. (Little do they realize that before Dr. Evil OR Blofeld did the super villain with the cat bit, Tomisaburo Wakayama did it as Oda Nobunaga in Shinobi no Mono.)
For us here, You Only Live Twice is essentially the West's first ninja movie, but it is also the West's first BAD ninja movie. As much as I've loved this film my whole life, the missed opportunities are too numerous to put aside. For a movie taking pains to show the ancient Japanese methods in tandem with the futuristic new, where was the scene of a traditional black shozoku at least in a display case with the new outfits aside for contrast? And while the notion of a nation steeped in tradition radically updating its ancient espionage pedigree to the new space age is amazing, other leaps of logic trip you up like weeds in the book's Garden of Death.
Take that Garden for instance… here's Tiger, handcuffed and unable to assassinate Blofeld with any homegrown asset, thus manipulating Bond into being his trigger man. But if you think about it, he's got myriad modern ninja on the payroll with full expertise of poisons at their disposal. And their target is a man surrounded by killer plants, insects and reptiles. They can't possible bump him off and make it look like a gardening accident???
Jump to the movie. Here's this army of ninja, experts on silent infiltration and whatnot, and they're basically reduced to being cannon fodder in a very loud full-frontal assault into a well-lit volcano complex. While there are plenty of martial arts on display, there is precious little shadow work in a script essentially replicating the gimmicked final battle of Thunderball (and later Moonraker).
YOLT is one of those movies you love to hate, and hate to love, all at once. I mean, I've only seen it like 50 times or so over the course of my life. First seeing it on TV as a kid in the 70s, the ninja elements wouldn't have registered as anything more than karate or kung-fu stuff. And during the 80s craze my expectations of ninja were so narrow and demanding of black suits and hoods, I didn't even recognize it as a ninja movie.
Maybe the frustration at the undelivered potential of YOLT, and the weak and rare ninja fare that followed in the 1970s, is what made fully-dedicated outright ninja movies like The Octagon and Enter the Ninja such a welcomed, and craze-inspiring revelation.
But… we wouldn't have gotten there without You Only Live Twice. Happy 50th Birthday Tiger, Aki, Kissy and all your anonymous grey hooded pals!
Keith J. Rainville — 6/11/2017
Images of the films You Only Live Twice and License to Kill are ©Metro-Goldwyn-Mayer Studios Inc. Excepts from the book You Only Live Twice in both prose and strip are ©Gildrose Productions, 1964. Excepts from Both used here for editorial review and under Fair Use.
RELATED:
Eric Van Lustbader on YOLT's influence on The Ninja
A huge collection of memorabilia here.
As always, articles on VN are meant more to open-up and encourage discussion than they are to make definitive statements, and we are always looking for additional info and insight into our topics. To that end we've specifically opened up Comments for this article and can also be reached via email at krainville-at-vintageninja-dot-net.